School of Public Policy Mourns the Loss of Bruce Herschensohn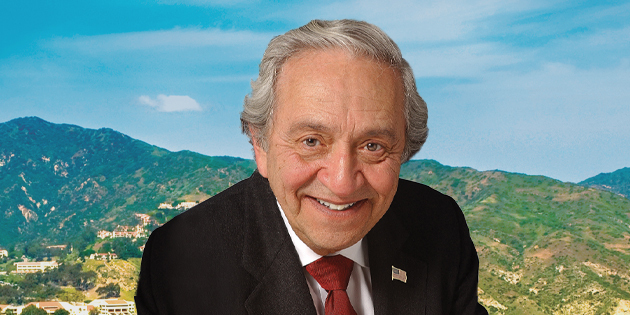 It is with great sadness that we announce that Bruce Herschensohn, School of Public Policy (SPP) senior fellow and beloved friend, passed away on Monday, November 30, 2020. He was 88.
Herschensohn was integral to the launch of the school, serving as an inaugural faculty member in its first year and continuing to teach and lecture throughout its 23-year history. "Bruce was a personal friend as well as an inspiration to me and so many who consider careers in public service," noted Pete Peterson (MPP '07), dean of the School of Public Policy. "At Pepperdine we use the phrase 'convicted civility' to describe a perspective, which combines a commitment to principles that are argued in a civil—even winsome—way. Bruce personified this virtue throughout his life," Peterson added.
After service in the United States Air Force, Herschensohn began his own motion picture company and was appointed director of Motion Pictures and Television for the United States Information Agency (USIA). During his tenure, the USIA received more awards for film and television productions than all other departments and agencies of the US government combined, including an Oscar from the Academy of Motion Picture Arts and Sciences. In 1969 he was selected as one of the Ten Outstanding Young Men in the federal government. He received the second highest civilian award, the Distinguished Service Medal, and then became deputy special assistant to President Richard Nixon.
A television and radio political commentator for the last two decades, Herschensohn taught "The US Image Abroad" at the University of Maryland, occupied the Nixon Chair at Whittier College, and was chair of the University Board at Pepperdine University. In 1992 he was the State of California's Republican nominee for the United States Senate and was defeated while winning more than one million votes, more than the national ticket of the party. He was a fellow at the John F. Kennedy Institute of Politics at Harvard University for the spring 1996 semester, teaching "US Foreign Policy," and he was a distinguished fellow of the Claremont Institute from 1993 to 2001. Most recently, Herschensohn was teaching "The World Leadership Role of the United States" at SPP and was a nonresident associate fellow of the Nixon Center for Peace and Freedom.
Over the years Herschensohn served as the John M. Olin Visiting Professor from 2000 to 2001, a Davenport Institute Fellow, and Senior Fellow at Pepperdine—giving numerous lectures and hosting his popular "US Foreign Policy Roundtables" for students. His lectures at the University spanned topics including the JFK assasination, an analysis of the first Chinese presidential state visit, and a discussion of Obama's Globe on Book TV. He also had a deep passion for mentoring students on working for the state and the USIA, and some have credited him for landing them an interview or job.
One of his students, Troy Senik (MPP '07), who went on to become a White House speechwriter, remembers, "Bruce Herschensohn started as my professor, became my mentor, and was ultimately one of my most treasured friends. I have met many good men and many noble public servants—but never someone who held both distinctions with such grace and integrity. We should all long to live in a world with more Bruce Herschensohns, whether they work in the White House or live in the house next door."
Sheryl Covey, assistant dean for administration at SPP, shared a story of one of Herschensohn's many blessings. She recalled Herschensohn giving dozens of new books to the Pepperdine library in SPP's early years at Drescher to build up the stacks, yet he didn't want anyone to know it was him who donated. "He never missed an opportunity to make others feel valued and bring them joy," she stated, recalling his generosity and kindness. "Bruce would ask to take a photo with me each year, posing in front of the graduation port-o-potties, just because it would bring a smile or laughter to the students."
She continued, "Once, when he had to complete his time card, he wrote me a lengthy essay, where he said 'I do have the memory of the last time I had to use a timecard: it was in 1949 when I worked at a grocery store and every day when I came into the store I took my card out of a rack and put it in a slot of a timecard-clock. I did the same thing when I left the store. Even though it was a nuisance because it took a few seconds, it worked fine. Now, of course, thanks to advanced 21st-century technology, it takes longer, and I can't make it work. . . .' He knew it would bring a laugh."
Michael Shires, associate dean for strategy and special projects, shared, "Bruce's passing is a tremendous loss for SPP and for America. His passion for his nation was couched in a kind and gentle demeanor that told you he genuinely cared about you and wanted to learn from you and your experiences. You always left a conversation with Bruce, whether in class or one-on-one, inspired and determined to do better."
Fellow faculty member Robert Kaufman, added, "I mourn the passing of the great Bruce Herschensohn—a scholar, statesmen, and commentator of the first rank, a pathbreaker, indefatigable in his defense of freedom at home and abroad, no better friend—to me, the School of Public Policy, and countless others."
Longtime friend and SPP founding dean James R. Wilburn said, "Through almost 50 years of friendship, including intimate lunches with the likes of Russell Kirk and Ronald Reagan, and as a founding 'professor' of the Pepperdine School of Public Policy, I came to expect that any definition of 'integrity' would include a picture of Bruce Herschensohn."
Among his many accomplishments in life, Herschensohn received an Honorary Doctor of Laws degree from Pepperdine and served on the University Board for more than two decades.
Pepperdine Libraries is honored to hold his archival collection, selections of which can be found in the Pepperdine Libraries Digital Collections.
Read more articles: