School of Public Policy Announces Fall 2021 Course Modality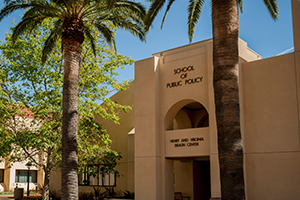 On Monday, April 26, 2021, Pete Peterson, dean and Braun Family Dean's Chair, announced the fall 2021 and spring 2022 modality for the Pepperdine School of Public Policy (SPP). For the 2021–2022 academic year, SPP will resume in-person course offerings for all first-year students and, for the first time in its 25 years, offer online classes in SPP-led specialization courses for second-year students.
While Pepperdine University's plans are to have all students return to their respective campuses in the fall, the school will build from the past year's experiences to continue experimenting with online education for the 2021–2022 academic year.
First-year students will be required to attend in-person classes at the Malibu campus for their core classes. For second-year students, SPP will offer at least one remotely taught class in each of the SPP-led specializations (American Policy and Politics, International Relations and National Security, Applied Economic Policy, and State and Local Policy). Additionally, the school will offer the SPP-based portion of the Dispute Resolution specialization online next spring.
"We have learned a lot about online education in this past year," noted dean Pete Peterson. "While we'll always prioritize the distinctive in-class learning experience for our MPP program, offering a small subset of online courses provides our students with access to faculty based around the country as well as scheduling flexibility. We look forward to delivering a world-class education both in person and online."