School of Public Policy and City of Santa Monica to Present Seminar on Public Service and Technology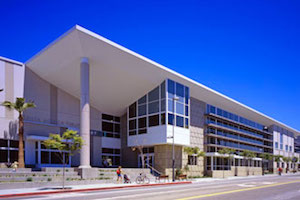 The Project for Cross Sector Leadership at Pepperdine School of Public Policy and the City of Santa Monica will co-host the discussion "Mapping the Future: Leadership in Search of a Sense of Place" at Santa Monica Public Library on Monday, January 14, at 3:30 PM.
In this fast-moving and engaging conversation, public leadership experts Kate Coleman and Stephen Goldsmith will explore a framework for geographic information system users to advance the importance and applicability of their work. Coleman and Goldsmith will examine how thinking and acting with a geographic or place-based orientation will create better decision making and promote cross-sector collaborations.
Coleman has 30 years of experience as a senior executive in the private and social sectors, where she has successfully participated in multiple significant organizational transformations. For the past year, as a Harvard ALI Fellow, Coleman has applied that experience to research that focuses on obstacles to nonprofit efficiency and effectiveness.
She has taught classes in a variety of settings, most recently at the Institute for Nonprofit Practice at Tufts. Her ability to communicate and engage audiences is the product of having given hundreds of presentations in which she translated complex ideas into simple concepts with real world applications. From Coleman's service on the board of the University of Chicago Graham School for Continuing Liberal Arts and Professional Studies, she recognizes the need for students both to understand theory and prepare for emerging career opportunities.
The author of A New City O/S: The Power of Open, Collaborative, and Distributed Governance, Goldsmith is the Daniel Paul Professor of the Practice of Government and the director of the Innovations in Government Program at Harvard Kennedy School of Government. He directs Data-Smart City Solutions, the Project on Municipal Innovation, the Civic Analytics Network, and Operational Excellence in Government. Previously, he served as deputy mayor of New York and mayor of Indianapolis.
To learn more about this free event, and to register to attend, visit the School of Public Policy website.