Retiring Manhattan Institute President Lawrence J. Mone Receives Honorary Degree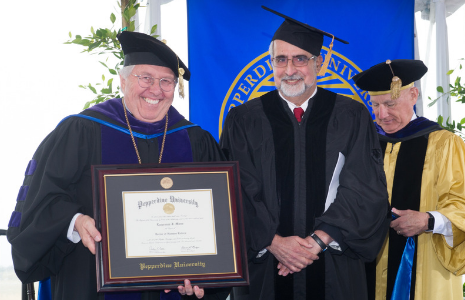 On Friday, April 26th the Pepperdine School of Public Policy (SPP) held it's 21st graduation ceremony on Alumni Park. At this ceremony, SPP conferred an honorary Doctor of Humane Letters degree—the highest academic recognition Pepperdine University can bestow—upon Lawrence J. Mone, retiring president of the Manhattan Institute. Mone served as president of the Manhattan Institute for Policy Research (MI) for 25 years totaling in 35 years of combined service and dedication to this free-market think tank. He delivered a speech to the graduating class of 2019 reflecting on policy-making and actions in America.
"Turning intellect into action is at the core principles of the institution," said Mone, and goes on to tell the graduates, "policy, fundamentally, is implementation."
Reflecting on examples of adopting policy, Mone shared his experience with the Center for Educational Innovation (CEI), a non-profit education organization, that proved to reduce truancy and discipline problems while raising test scores in schools. MI partnered with CEI to formulate a plan that helped move their message across the world to help meet the needs of students in low-performing cities.
In addition to unique demands, there comes unique solutions. Understanding that there can be local solutions to global threats, MI created an in-house think tank to train New York police officers in counter-terrorism as a response to the 9/11 attack.
Mone addressed three lessons drawn from experiences of the past. The first being, casting a wide net of partnering with people of different backgrounds and expertise usually yields the best results. In a combination of government officials, academics, philanthropists, business people, and more, when you take away one the chance of success drops. Second, patience is the best practice in policy-making because it can take several years to make a substantial change. Lastly, "before you can make policy, you have to win arguments in the real world."
Mone acknowledged one must "be willing to reach across the aisle," no matter what side you may lean towards in order to work with other people and implement change.
Watch 2019 SPP Graduation Ceremony.