Interim Dean Peterson Joins Bipartisan Group to Discuss California Policy Reform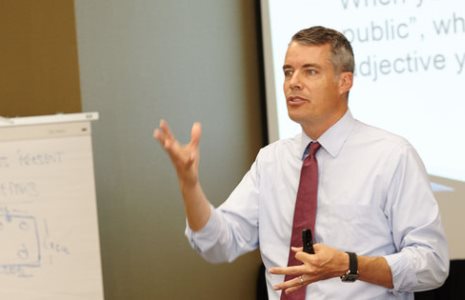 School of Public Policy interim dean and executive director of the Davenport Institute for Public Engagement and Civic Leadership, Pete Peterson (MPP '07), has partnered with the bi-partisan organization California Forward on a project to improve governance in California. The bipartisan conversations will work to develop a culture of dialogue and engagement at all levels of government.
California Forward convened a group of four bi-partisan leaders to conduct in-depth public conversations on the subject of improving California's governance and economy: Fresno Mayor Ashley Swearengin (R), former San Jose Mayor Chuck Reed (D), Pepperdine's Pete Peterson (R), and former president of Green Dot Public Schools Marshall Tuck (D). Through Fall 2015, these leaders will be taking the conversations on the road and inviting the public to join in.
These interactive events will include a panel discussion with local officials and opportunities for participants to engage through questions and keypad polling. One of the key themes highlighted is the need for public engagement in civic and political processes. Currently there two events have been scheduled:
San Jose, CA - August 19th
Clovis, CA - September 23rd
Learn more about the project and topics that will be addressed during these conversations.