Pepperdine School of Public Policy Dean Pete Peterson Speaks at Harvard's "Connected Communities Conference"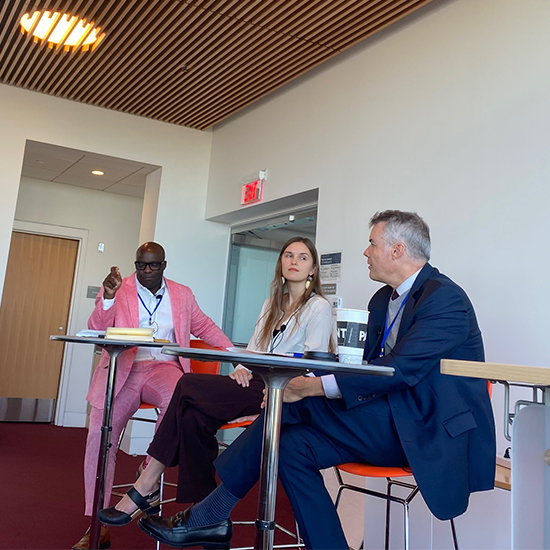 From October 12-14, 2023, educators, policymakers, business leaders, and civic members gathered on the Harvard campus to discuss a common theme seen in each of their respected communities across the country–a lack of social connection.
The Building Connected Communities Conference was hosted by the Foundation for Social Connection, Harvard University's Human Flourishing Program, and Healthy Places by Design. Describing itself as an "action forum," the three-day gathering included panels, group discussions, and breakout sessions that evaluated all aspects of a healthy community and the policies and resources needed to combat loneliness, isolation, and disconnection across America.
Keynote speakers at the event included sociologist, Robert Putnam; US surgeon general, Vivek Murthy; psychologist, Jean Twenge; and US senator, Chris Murphy (D-CT).
Pepperdine University School of Public Policy's Dean Pete Peterson served as a featured panelist for the session titled "Civic Life and Participation" alongside the Aspen Institute Socrates Program's executive director Cordell Carter II, and Harvard University Sheldon fellow Maya Pace. This collaborative discussion emphasized the vital importance of citizen engagement as a necessary element of community "buy-in" to the success and well-being of their community. Dean Peterson highlighted the work of SPP's Meese Institute in exploring issues of loneliness in America's political culture, as well as its Davenport Institute, which focuses on local government leadership training and education.
"The work of Harvard's Human Flourishing Program, which was the academic host of the conference, aligns closely with our own domestic policy work, which has been exploring the issues of loneliness and alienation for several years," said Peterson. "We're seeing these cultural issues manifest themselves in our public policies and politics, and I enjoyed participating on a panel that was focused on this topic. I look forward to future opportunities to partner with IHF in the future."