Dr. Blanco Presents Research at RAND Finance Forum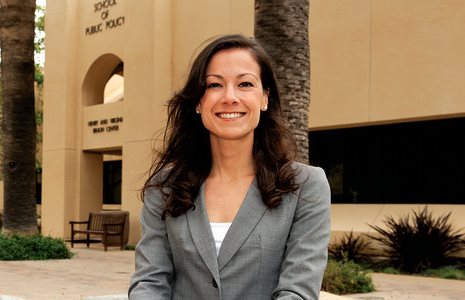 Dr. Luisa Blanco, associate professor of public policy, presented "A Community Based Randomized Controlled Trial on an Educational Intervention 'YoPlaneoMiRetiro' to Promote Retirement Saving Among Hispanics," at the RAND Behavioral Finance Forum 2017, on October 24, 2017, in Washington, DC.
The RAND Behavioral Finance Forum brings together academic, financial, and government leaders to share cutting-edge behavioral research in financial decisionmaking and related topics through an annual conference and webinar series.
This year's forum will focus on financial decision-making as it relates to aging, debt and credit, retirement planning, and investments and disclosure. Presentations included a mix of studies from academics, policy makers, and industry working to better understand financial decisions.
Blanco is an economist specializing in economic development and international economics, with a focus on the Latin American region. At Pepperdine's School of Public Policy, Blanco teaches the core course on Macroeconomic Policy and other courses related to the economics specialization, such as Global Economics and Latin American Economic Development. Blanco is affiliated with the Center for Latin American Social Policy (CLASP) at RAND Corporation as a Research Fellow. Blanco is also a scholar at the Resource Centers for Minority Aging Research - Center for Health Improvement for Minority Elders (RCMAR-CHIME) at University of California Los Angeles. In May of 2013, Blanco was unanimously elected as a Research Fellow at Harris Manchester College, Oxford University.