Davenport Institute Hosts Troy Brown as the 2022 City Manager in Residence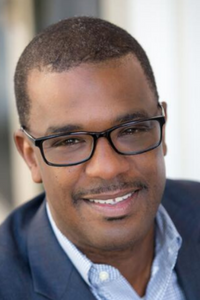 On February 24th, the Davenport Institute for Public Engagement and Civic Leadership at the Pepperdine School of Public Policy (SPP) resumed their City Manager in Residence program, the first since 2019. Moorpark city manager and International City/County Management Association president, Troy Brown joined us at Pepperdine for two days of one-on-one meetings with students and a special edition Davenport Discussion.
Brown's journey to local government started as a recreational specialist in Los Angeles county. During this time he balanced the pursuit of his new career, and other jobs, with finishing his bachelor's degree. However, the ability to serve his community in tangible ways motivated Brown to persevere through these challenges. Quoting Mark Twain, Brown encouraged the audience to find a career they were passionate about, "find a job you enjoy doing, and you will never have to work a day in your life."
On his journey to becoming a city manager in Moorpark, Brown learned that upper administration of local government was less about ceremonial duties like giving out the Key to the City, and more about becoming a chief executive officer. While difficult, Brown loved learning about the multiple ways that one can serve their community through local government past the popular conceptions of "fire and police." Many of the most important jobs in public policy, such as tackling homelessness, dispute resolution, and economic policy, happen at the local level and can provide a fulfilling career to aspiring government leaders.
As city manager, Brown saw his role shift most dramatically from his direct service role as a recreational specialist, where he now met more with city council members than directly with his city's residents. To navigate this role, Brown makes sure to stay a staple of the community, seeing his constituents as residents, and always following up on requests with clear communication about what can, and cannot, be accomplished.
During the Davenport Discussion event, Brown and the SPP students had a rich discussion about city management in the time of COVID-19, the role of social media in public engagement, and attracting young talent to local government. Brown also met with ten selected SPP students individually for personal conversations on career guidance and getting involved with local government.