Davenport Discussion Featured City Manager of Grover Beach, Matt Bronson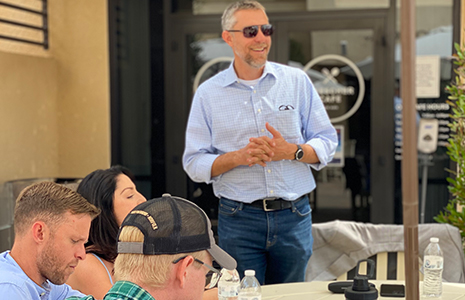 On Tuesday, August 31, the Davenport Institute for Public Engagement and Civic Leadership at the Pepperdine School of Public Policy (SPP) hosted their first Davenport Discussion series event featuring Grover Beach city manager Matt Bronson. Held outside on a beautiful day in Malibu, dozens of students from SPP were in attendance. With this being the first in-person Davenport Institute event in more than a year, students embraced the opportunity to learn from a leader in local government.
Bronson began by explaining his background, including how a love for the public policy process led him to pursue a career in government. He emphasized that while many policy students and professionals desire a career at the federal or even international level, the most crucial work is done closer to home. He reiterated that "everyone lives somewhere," which means that decisions by local governments are often what affect us most directly.
Beyond politics, he explained there is a communal element to local government that is unique, as local leaders tend to experience the consequences—positive and negative—of their choices. Furthermore, they share a community with those whose lives are affected by local governance, so there is a stronger incentive to govern well. This is especially true because people are not simply "constituents," but friends and neighbors. Such relationships promote accountability, as the last thing any local official wants to do is disappoint those they care about most.
Bronson also spoke about his role as city manager, which amounts to effectively facilitating what the city council votes to implement. The distinction here echoes the more explicit legislative versus executive functions of government, which exist at the local level as well. He added that having passion for one's community is a key condition for serving well as a local government leader. He demonstrates this thoroughly by virtue of his involvement in the Grover Beach community, which includes volunteering for the city's Little League baseball organization.
At the conclusion of the discussion, students were able to ask questions and seek advice about working in local government. Bronson's willingness to share his knowledge and experience with highly motivated students allowed for a very interactive conversation, leaving those in attendance with a much better understanding of local government operations and responsibilities.
Learn more about Davenport Institute's City Manager in Residence Program.