2023 Davenport Institute City Manager in Residence Program Hosts Drew Powers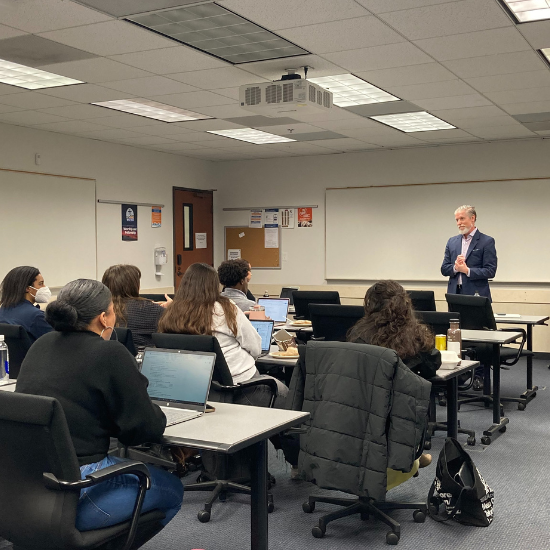 On Wednesday, February 22, 2023, the Davenport Institute for Public Engagement and Civic Leadership hosted its annual City Manager in Residence Program at the Pepperdine School of Public Policy (SPP) with Drew Powers, city manager for the City of Thousand Oaks, California. Introduced in 2011, the City Manager in Residence Program offers graduate public policy students the opportunity to learn first-hand from some of the best city managers in California by arranging one-on-one mentorship meetings with students as well as hosting a special Davenport Discussion luncheon.
Having served in local government for more than 25 years, Powers shared with students his career journey and how it led him to his current position with the City of Thousand Oaks. As an undergraduate student, Powers studied parks, recreation, and tourism management at North Carolina State University, which led him to municipal government in Raleigh, North Carolina. After working as a communications and marketing affairs professional, Powers made a career leap and landed a job working for the City of Ventura, California, in its Civic Engagement Division managing media relations and community partnerships. The professional shift towards public engagement provided a greater understanding of how local governments function, afforded him the opportunity for career growth, and provided him with the skills and resources to excel as a city manager.
A few of the key ideas presented by Powers included the importance of storytelling to connect your passion to professional goals, maintaining a mindset of growth, and engaging with the community one serves. Next, Powers discussed elements of local government, particularly features within the City of Thousand Oaks. This portion of the conversation gave students a deeper knowledge of a council-manager structured government and the responsibilities of city managers. He also touched on policy topics directly impacting his city daily including housing, homelessness, economic development, and investment in infrastructure. An interactive question and answer session followed the discussion. Questions included the differences between working in local governments in California and North Carolina and how the City of Thousand Oaks is adhering to California SB.9, which allows homeowners to create up to four homes on an existing parcel, in effect, eliminating single-family-only zoning.
"Attending the Davenport Institute's Discussion with Thousand Oaks City manager, Andrew Powers, was extremely impactful and a highlight of my time at SPP," stated graduate student, Alaya McKinney. "This meeting afforded me the opportunity to gain a deeper understanding of what a city manager does, and the impact that local government has on our communities. The time spent with Mr. Powers was definitely valuable, aside from his kindness and willingness to answer all of my questions, I was able to build a valuable professional connection with him. I would encourage more students to attend discussions like this to gain a deeper enlightenment of the careers they may want to explore."