American Policy Expert Dr. Lanhee Chen to Serve as Fall 2017 Simon Distinguished Professor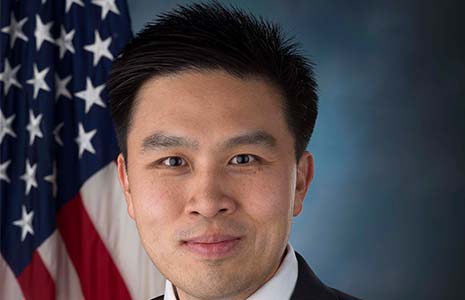 Dean Pete Peterson announced that American policy expert Dr. Lanhee J. Chen will serve as the Fall 2017 William E. Simon Distinguished Visiting Professor at the Pepperdine School of Public Policy.
Chen is the David and Diane Steffy Research Fellow at the Hoover Institution; director of domestic policy studies and lecturer in the Public Policy Program at Stanford University; and an affiliate of Stanford's Freeman Spogli Institute for International Studies. He currently serves as a presidentially-appointed and Senate-confirmed member of the Social Security Advisory Board—an independent, bipartisan panel that advises the president, Congress, and the Commissioner of Social Security on matters related to the Social Security and Supplemental Security Income programs.
"I'm very excited to have Dr. Chen engaging with the future public leaders our program recruits," noted Peterson. "Lanhee brings such terrific practical and scholarly experience at the intersection of policy and politics, and as we say here at Pepperdine, 'leaders must always consider the public in forming public policy."
"I am thrilled to be a part of the Pepperdine community this fall," Chen said. "The School of Public Policy's commitment to informing students about the multiple dimensions of the policymaking process and helping them understand, through both academic research and real-world examples, how policy actually gets made, makes it a unique place to teach and learn. I look forward to getting to know the school, its faculty, staff, and, most of all, its students."
A veteran of several high-profile political campaigns, Chen has worked in government, the private sector, and academia. Most recently, he was an adviser to Senator Marco Rubio's 2016 presidential campaign. In 2012, he was the policy director for the Romney-Ryan presidential campaign, as well as Governor Mitt Romney's chief policy adviser. In the Bush administration, Chen was a senior official at the US Department of Health and Human Services. He is currently a Counsel at the law firm of Arent Fox LLP and was previously an associate attorney at Gibson, Dunn & Crutcher LLP.
Chen was honored in 2015 as one of the POLITICO 50, a list of the "thinkers, doers, and visionaries transforming American politics." His writings have appeared in a variety of outlets, including The Wall Street Journal, The Washington Post, the Los Angeles Times, and Bloomberg View. He has been a CNN political commentator and provided political analysis and commentary on nearly every other major television network.
Chen earned his PhD and AM in political science from Harvard University, his JD cum laude from Harvard Law School, and his AB magna cum laude in government from Harvard College.
During the Fall 2017 semester, Chen will teach the course, "Seminar in Political Issues: Public Policymaking in Today's Political Environment," in the Master of Public Policy degree program on the Malibu campus.
The William E. Simon Distinguished Visiting Professorship at the School of Public Policy is funded by the William E. Simon Foundation, which provides the school with the opportunity to invite a series of nationally recognized and highly respected individuals to be in residence each year. Each visiting professor leads a class or seminar, devotes significant time as a resident mentor to student scholars, and leads presentations for the entire campus community.