WaveMaker e-Newsletter | October 2017
Q & A with Zachary Decker (MPP candidate '18)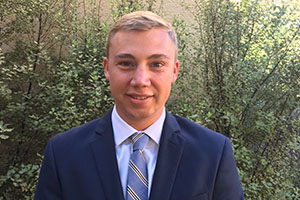 Zachary Decker (MPP candidate '18) is a current second-year student at the School of Public Policy (SPP) who recently completed his policy internship at the Valley Industry and Commerce Association (VICA). He received a BA in public relations and political science from Coe College in Cedar Rapids, Iowa, and is specializing in economics and state and local policy at the School of Public Policy.
The policy internship is a required element toward graduation and is typically at an organization related to the student's specialization. The internship provides a perspective on how the methods and theories learned in the cases studied in the classroom may find practical expression in non-textbook and complex real-life settings.

Why did you choose the School of Public Policy at Pepperdine (SPP)?
I chose SPP because it provided a focus and curriculum only found at Pepperdine. Its decision to incorporate the historical underpinnings into a program that is people-centric shows a commitment to sound policymaking. The faculty are highly-skilled in their respective disciplines.

Tell me about your internship at VICA. What were your responsibilities and what were your biggest takeaways from this experience?
My internship at VICA was quite impactful--I tracked legislation at various governmental levels, drafted briefs on specific bills, and wrote letters to state legislators. I gained a comprehensive knowledge of the landscape of local and state politics.
What are your long-term career goals? What is the most important way the School of Public Policy is helping to prepare you?
I'd like to ultimately seek out a role in local government or private consulting. I believe SPP will make me a competitive graduate as I complete the challenging coursework and build a holistic view of public policy.


What do you think is the biggest policy challenge currently facing California and/or the United States? What can be done about it?
Affordable housing is clearly an issue that is plaguing many Californians. While I don't believe one solution will be enough to alleviate the crisis, removing barriers to entry for developers could prove effective. Regulations concerning affordable housing development and environmental building practices often have just intentions, but conditions remain largely unfavorable to builders, keeping housing supply low and prices high.