Cross-Sector Leadership Curriculum
We believe that all people can be leaders, because leadership is a practice, not a position. Through the leadership education programs at Pepperdine School of Public Policy, we help build the practice of cross-sector leadership by focusing on collaboration and communication across nonprofit, corporate, government, academic, and other sectors.
Leadership Development
We build on established tools in the field to help Fellows answer the questions:
What are my strengths?
How do I influence and impact others?​
How do I share and receive information and feedback?
How can I best leverage these aspects of myself in my practice of cross-sector leadership?

9 Cross-Sector Leadership Skills
Through independent research and observation the Pepperdine Cross-Sector Leadership Fellows Program has identified a list of nine universal skills which cross-sector leaders use in their practice:
Building Teams
Developing Trust
Managing Power Dynamics & Conflict
Fostering an Innovation Culture
Solving Problems
Understanding Impact on People
Taking a Systems Approach
Defining Results & Using Data​
Achieving Impact
Sharing Knowledge & Learning
Using Leverage Points
Aligning Motivations & Values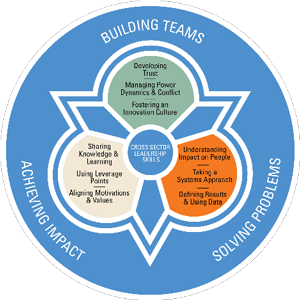 Models and Practice of Cross-Sector Collaboration
By learning with and from leaders practicing cross sector leadership, and those that study, chronicle, and codify their work, leaders will explore:
What are the known models of cross-sector collaboration and what results are they best equipped to produce?
What differentiates cross sector collaborations that have had measurable impact from those that have not?
How have they defined problems and results?
How do the partners work together? How have the partnerships been structured?