Requirements for MPP Programs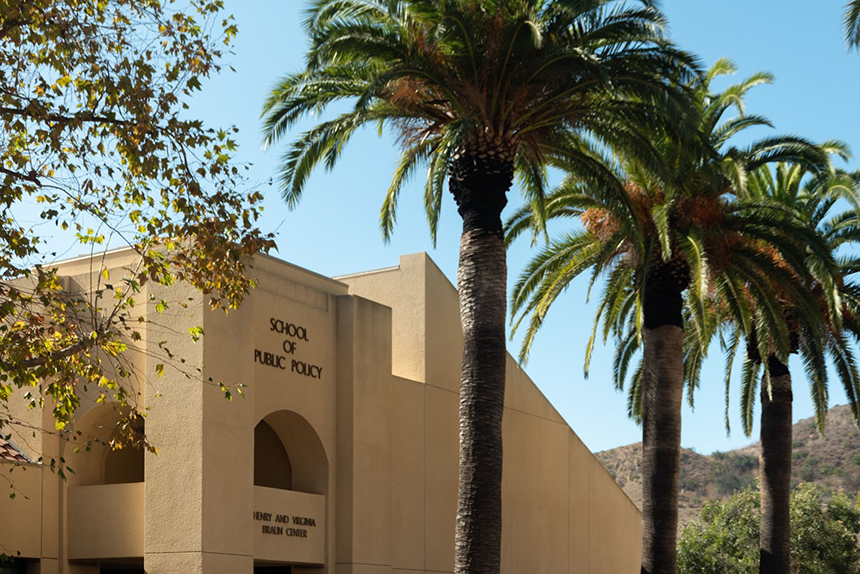 Ready to make a meaningful impact on society and take your career to the next level? Pepperdine University's Master of Public Policy (MPP) graduate program cultivates the next generation of servant leaders to enter into the public policy space. Our innovative, student-centered approach provides students with an interdisciplinary look into the field, while drawing upon the philosophical and historical dimensions of public policy through quantitive and qualitive analysis.
Keep reading to learn more about our curriculum, career opportunities, and how you can participate in the admission process to join our community of public policy makers and leaders.
What is a Master of Public Policy Degree?
A Master of Public Policy (MPP) degree equips students with the skills and knowledge to analyze, create, and implement public policies. Pepperdine University's School of Public Policy is based in the classic literature of history, philosophy, and politics, providing students with a well-rounded curriculum that is not limited to the study of only federal government solutions, but addresses a full range of free-market and community-oriented approaches to policy challenges. The goal is to prepare graduates to affect change and influence decision-making in various sectors on a global scale through government, nonprofits, and the private sector.
In a Master of Public Policy program, you're not just learning theory; you're gaining the practical experience to turn insights into actionable solutions that have real-world impact.
MPP Specializations
At Pepperdine's MPP program, students are able to choose an area of special interest for their second year. Their specialization allows them to fine-tune their skill set to meet the demands of their specific interests. In some cases, students are able to double specialize in any two tracks to even further customize their subject-matter expertise. The five specializations offered include: American Policy and Politics, Applied Economic Policy, International Relations and National Security, Public Policy and Dispute Resolution, and State and Local Policy.
American Policy and Politics
The American Policy and Politics specialization seeks to understand and analyze the dynamic nature of American society with consideration of the political, economic, and social implications of policies at the federal and local level. The top courses include American Democratic Culture; Environmental Regulation, Business, and Society; and Political communications and Strategy.
Career pathways include:
Capitol Hill Staff
Corporate Communications/Government Relations in the private sector
Federal Agency Staff
Roles in National Nonprofits & Foundations
Applied Economic Policy
The Applied Economic Policy specialization investigates and examines economic policy development by looking at urban and global issues, the evaluation of law and public policy, regional and metropolitan growth, and the role of government in a market economy. The top courses include Global Economics, Applied Econometrics, and Public Finance and Public Choice.
Career pathways include:
Think Tank Research Analyst
State Policy Researcher
Government Consulting in the private sector
PhD preparation
International Relations and National Security
The International Relations and National Security specialization follows a new role for US leadership through studies in statesmanship, global alliances, and US relations to areas such as Latin America, Asia, Africa, the Middle East, and Eastern Europe. The top courses include National Security and Freedom; War, Strategy, Democracy, and Politics; Regional Studies: Eastern Europe, Asia Pacific in World Affairs, Latin America.
Career pathways include:
International NGOs
Federal Intelligence Agencies
State Department & Foreign Service
Public Policy and Dispute Resolution
The Public Policy and Dispute Resolution specialization focuses on solving public challenges in collaborative ways. The aim is to prepare leaders with policy expertise and necessary skills to work across differences in an era marked by polarization.
Admission to this specialization is subject to availability and is reviewed by the admissions committee.
Career pathways include:
International NGO Negotiation Positions
State/Local Government Advisory Positions
Government Relations in the private sector
State and Local Policy
The State and Local Policy specialization educates students on how regions grow, develop, and can be effectively governed. Many of the most innovative and effective policy initiatives are at local levels overseen by governors, mayors, and other municipal and business leaders. The top courses include Policy Relationships of State and Local Government, Leadership through Public Engagement, and Education Reform and Leadership.
Career pathways include:
State Capital Staff/Elected Office
Municipal Government Leadership
State Policy Think Tanks
Government Technology Firms in the private sector.
Application Deadlines
Mark your calendars; the application period runs from October to July for each Fall term enrollment. Applications are reviewed as they come in, so earlier is usually better.
You can check dates for the current admission cycle here.
Application Requirements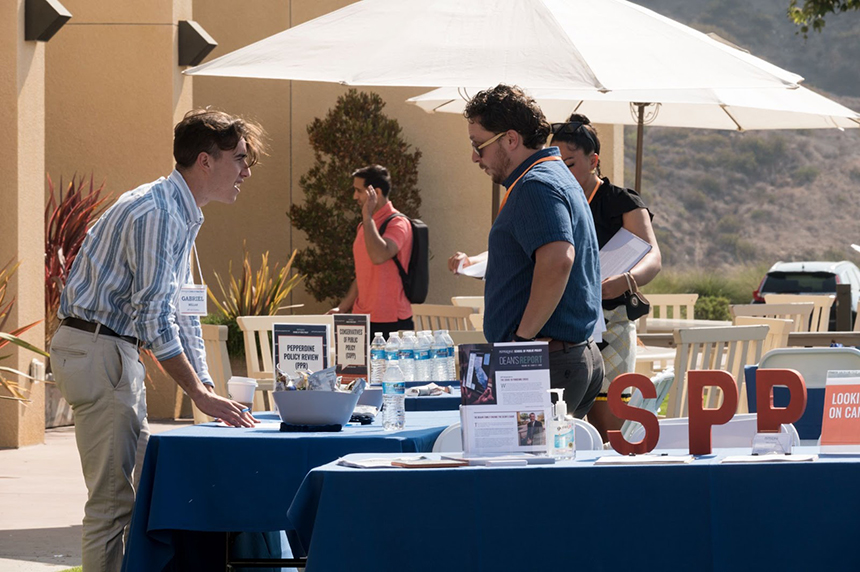 Below is an overview of the application requirements and admissions process for the MPP program at Pepperdine University.
1. Completed and Signed Application
All incoming students must complete an online application in order to be accepted into the MPP program at Pepperdine University. Student's completed applications are reviewed after each deadline. For international applicants, the final deadline is June 1 due to visa processing times.
2. Two Letters of Recommendation
Students are required to provide two letters of recommendation. It's preferable to provide one academic reference and one professional experience reference. The admissions office asks that letters of recommendation are sent via sealed envelope or emailed from the recommender's work email directly to sppadmissions@pepperdine.edu. For applicants under the Government Staffers fast-track, the School of Public Policy requires that one of the letters of recommendation must be from the head of the department of legislative office for which you work.
3. Two Essays
Students are required to submit two essays. In 1 to 2 pages, one essay should narrate an ethical or moral dilemma the student faced in recent years and describe reactions and solutions. The other essay—in 2 to 3 pages—should provide a brief personal statement detailing interest in studying public policy, reasons for choosing to apply to the Pepperdine School of Public Policy, and other information for consideration by the admission committee. SPP asks that the essays be mailed to the Office of Admission or emailed directly to sppadmissions@pepperdine.edu.
4. Current Resume or Curriculum Vitae
Students should include an updated resume or curriculum vitae. Although work experience is not required, professional experience will be considered in the admission process as it can greatly strengthen the applicant's profile.
5. Bachelor's Degree
All students must have a conferred bachelor's degree from a regionally-accredited four-year college or university before official enrollment at the Pepperdine School of Public Policy. If you're a current student in an undergraduate program, your degree does not need to be conferred at the time of application submission, completion, or admission, however, you should be on track to have a conferred degree at the time of enrollment.
6. Electronic Transcripts & Test Scores
The School of Public Policy accepts untampered and unofficial transcripts for the purposes of application review. Similar to the bachelor's degree requirement, your academic records should indicate you're on course to earn your degree before joining the MPP program.
Official test scores from GRE, GMAT, or LSAT are optional but must be within five years of the application date. When registering for these tests, remember to use the designated institution or school codes to ensure your scores are sent to the right place.
International Applicants
The Pepperdine School of Public Policy welcomes international applicants. The program is designed to prepare students for successful careers that span across cultures and geopolitical borders. If you're considering joining us from outside the United States, here's what you need to know:
Official Transcripts
You'll need to submit official transcripts or mark sheets with the seal and signature of your university registrar, controller of examinations, or president. These documents must be sent directly to our Office of Admission in the official sealed envelope. For non-English language institutions, certified translated copies of your university transcripts are required and official records should be in the language of instruction accompanied by official translations in English, if needed.
Transcripts should list all courses taken and the grades received year by year. A grading scale and rank, if available, are useful additions. If your institution won't issue original documents, "Certified True Copies" are an acceptable alternative. Please note that uncertified photocopies won't be accepted. For documents not in English, an accompanying official English translation with an original ink signature and seal are required.
TOEFL or IELTS
If English is not your first language, scores from the Test of English as a Foreign Language (TOEFL) or the International English Language Testing System (IELTS) is required. However, an exemption is provided for applicants who have completed four or more years at a regionally accredited English taught institution.
Scores must be sent directly to the School of Public Policy using the necessary institution code. In regards to TOEFL, a minimum score of 600 on the paper and pencil test or 95 on the internet based test is the minimum requirement. For the IELTS exam, a band score of 7.0 is the minimum requirement.
F-1 Student Visa
Upon acceptance of admission, you'll need to submit necessary documents to obtain the Form I-20, which is crucial for obtaining an F-1 student visa. The Office of International Student Services will issue the Form I-20 after submission of all required documents listed in the I-20 Checklist are complete and submitted to the Office of International Student Services.
Scholarships and Financial Aid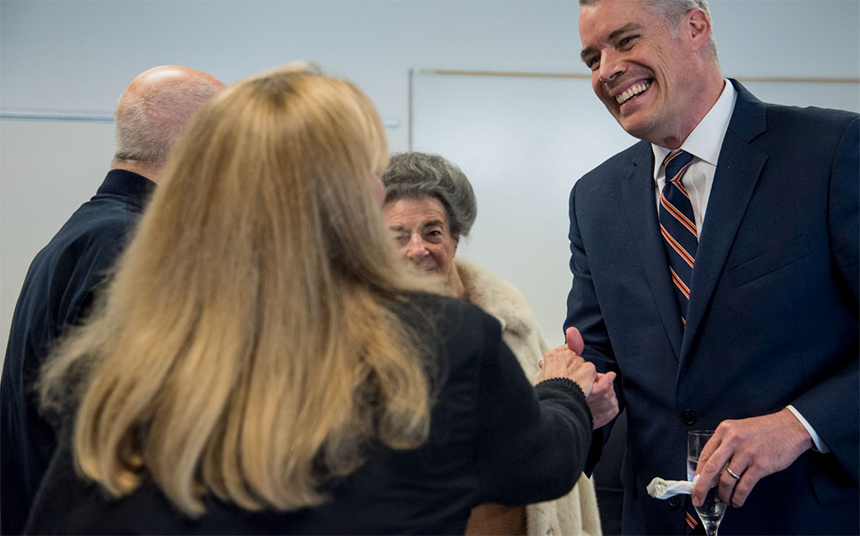 The financial aspect of higher education is often one of the biggest concerns for prospective students. At the Pepperdine School of Public Policy, the Financial Aid Office is dedicated to offering and guiding students toward the resources you need to achieve your academic dreams. We tailor aid packages to individual needs, combining both gift aid (grants and scholarships) and self-help (student loans and federal work-study).
Types of Aid
Internal Scholarships: These are merit-based and can go a long way in covering your tuition costs. They come from a variety of sources like endowed funds, gifts from alumni and supporters, as well as University general funds.


External Scholarships: Students are strongly encouraged to look for other scholarship opportunities beyond what the university offers. In most cases, external scholarships will not affect your internal scholarship offers, unless you're receiving Veterans' Benefits.


Federal Work-Study & Loans: Work-study programs give you a chance to work part-time while studying, and federal loans can fill in the gaps where needed.
Pepperdine Policy Partners Program (P4)
The Pepperdine Policy Partners Program works with a unique, nationwide network of professional and academic organizations that share a commitment to preparing the next generation of leaders in politics and policy in governments, nonprofits, and the private sector. If you are affiliated with one of our partner organizations, you may qualify for significant scholarships and other benefits while pursuing your Master of Public Policy. These benefits can include up to 70% of scholarship guarantee, waivers of the essay or recommendation letters, and early class registration options. Contact the Admission Office at sppadmissions@pepperdine.edu to see if you qualify.
How many units are required for the program?

A: A total of 50 units of coursework are required, with four 3-4 unit courses taken each semester for two academic years (four semesters).
Do you offer joint degree programs?

A: Yes, we offer the following joint degree programs. Students must apply separately to each school for joint degree programs:
Master of Public Policy/Juris Doctor: A 4-year program for full-time students to address issues of public policy in the practice of law, private business, or government.
Master of Public Policy/Master of Business Administration: A 3-year program for full-time students designed to utilize tools of analysis and policy design to implement successful institutional change.
Master of Public Policy/Master of Dispute Resolution: A joint program with the Straus Institute for Dispute Resolution at the Pepperdine School of Law to explore the study of negotiation, mediation, and arbitration while understanding the ethical and moral rules by which we guide our direction as a society.
What is the application review process?

A: Applications are reviewed on a rolling basis from October to July for each Fall term enrollment.