Watch: James K. A. Smith on Reforming Public Theology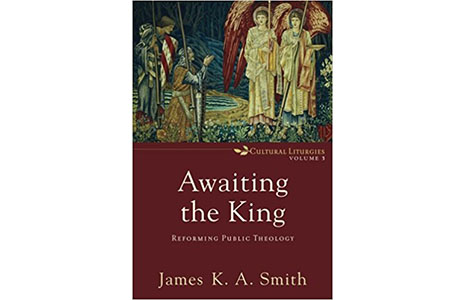 The School of Public Policy (SPP) and The Trinity Forum will host Evening Conversation with philosopher James K. A. Smith on Monday, December 4, at The National Press Club in Washington, D.C., to discuss the themes of his newly-released book Awaiting the King: Reforming Public Theology. Responding to Smith will be Michael Wear, author of Reclaiming Hope. Dreher's discussion is part of SPP's "The Moral Sense in Politics & Policy" speaker series.
The event will be available via live stream beginning at 3:30 pm PST at the bottom of this page.
In this Evening Conversation, Smith will examine politics through the lens of liturgy. Smith explores a new understanding of our political institutions as serving to form what we value, love, and protect. His new book delves into the religious nature of politics and the political nature of Christian worship, offering insights as to how to help citizens re-envision and invest in the common good.
James K. A. Smith is a professor of philosophy at Calvin College where he holds the Gary and Henrietta Byker Chair in Applied Reformed Theology and Worldview. He is the award-winning author of Who's Afraid of Postmodernism?, Desiring the Kingdom, and You Are What You Love: The Spiritual Power of Habit. His new book Awaiting the King: Reforming Public Theology will be released this month. His popular writing has appeared in publications such as The New York Times, Wall Street Journal, USA Today, Books & Culture, and First Things. Smith is also a Senior Fellow of Cardus and serves as editor of Comment magazine.
Michael Wear is the founder of Public Square Strategies LLC, which helps organizations effectively navigate the rapidly changing religious and political landscape. Previously, Michael directed faith outreach for President Obama's 2012 re-election campaign, and served as the Deputy Director of the White House Office for Faith-Based Initiatives during President Obama's first term. He is the author of Reclaiming Hope: Lessons Learned in the Obama White House About the Future of Faith in America, and writes for The Atlantic, Christianity Today, USA Today, Relevant Magazine, and other publications. He serves on the national board of Bethany Christian Services, and holds an honorary position at the University of Birmingham's Cadbury Center for the Public Understanding of Religion.
This event is free ($20 otherwise) to Pepperdine alums and supporters. Please register through Melissa Espinoza.
About the "Moral Sense in Politics & Policy" Speakers Series: Since 2013, SPP has collaborated with Washington, DC's The Trinity Forum in hosting twice-annual speaking events that look at the intersection of virtue and public policy. The phrase, "moral sense" is borrowed from one of SPP's founders - the late Dr. James Q. Wilson - who felt that effective public leadership demanded a more humanistic approach based in a rigorous liberal arts education.