School of Public Policy Students Attend Regional Local Government Conference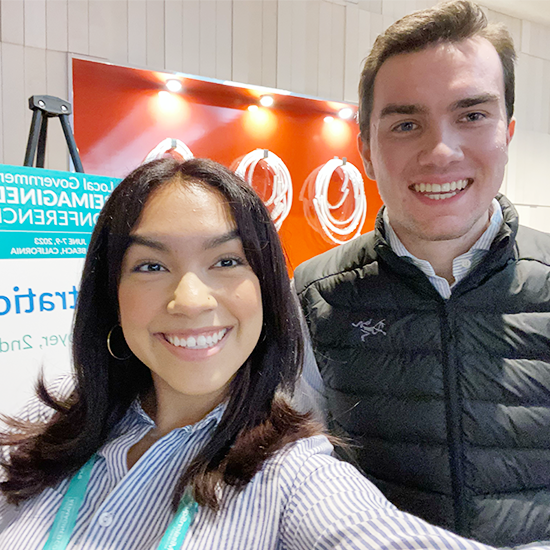 At the beginning of June, the International City/County Management Association (ICMA) hosted a regional conference in Long Beach, California, titled Local Government Reimagined. The conference explored livability, economic development, and infrastructure in cities across California and the country. Participants had the opportunity to listen to city leaders explain creative initiatives and strategies being used to address pressing issues in their communities. Two Pepperdine School of Public Policy students, Celeste Benitez Galicia and Patrick Grace had the opportunity to attend the conference and learn alongside individuals working in local government. Benitez Galicia and Grace are candidates for their master of public policy who serve as the president and vice president of the ICMA Student Chapter at the Pepperdine University School of Public Policy. Benitez Galicia also serves as a graduate assistant for the Davenport Institute for Public Engagement and Civic Leadership.
"I am grateful for the opportunities SPP and the Davenport Institute have given us to learn from local government leaders! As a second-year student, attending this conference has allowed me to build professional connections and gain a deeper understanding of policies that allow our communities to thrive," said Benitez Galicia.
Gatherings such as the ICMA regional conference play a key role in enhancing classroom learning and research work, and provide an opportunity for students to see the application of policy in the real world.
The School of Public Policy and the Davenport Institute are grateful for the partnership with ICMA and the ability to collaborate on the ideas and actions that prove invaluable to local government policy.