SPP Student Vanessa Cruz to Participate in APPAM's 43rd Annual Conference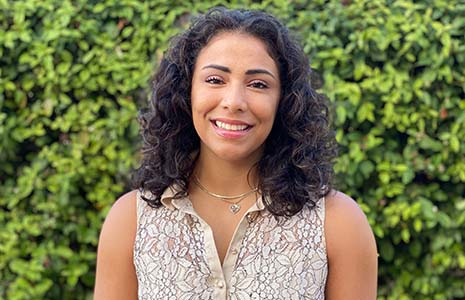 The Pepperdine School of Public Policy (SPP) is proud of current student Vanessa Cruz who will be participating in a virtual panel discussion at the Association for Public Policy Analysis and Management (APPAM) 43rd Annual Fall Research Conference. A portion of the conference will take place in person in Austin, Texas, from March 27 - 29, 2022.
Cruz worked closely with Dr. Cameron Sublett, a senior research associate at WestEd and adjunct faculty at SPP, and his colleague, Dr. Jay Plasman at the Ohio State University on a research study titled Here and There: An Examination of Community College CTE and Student Mobility Across Rural Locales. The study uses nationally representative data and a rigorous empirical strategy to break new ground and assist policymakers currently grappling with the growing economic stratification between rural and urban areas. Cruz is honored to be a part of their study and to work with them on examining Career and Technical Education (CTE) among community college students.
Sublett states, "We are very excited about this study, the results we uncovered, and are really looking forward to discussing the policy implications with folks at APPAM. Dr. Plasman and I also really enjoyed having Vanessa on the team; she approached us wanting to gain experience carrying out statistical analysis to better inform public policy. We're really happy she did and look forward to supporting her as she takes the lead on presenting the study APPAM."
We asked Cruz the following question about this opportunity.
What did you learn through this research process?
Through this experience, I learned a substantial amount from Dr. Sublett and Dr. Plasman on constructing each section for a research study as well as an abstract for the research conference submission. I also learned more about how CTE may be beneficial for community college students in the long run. Participating in this panel means that I will be able to meet and learn from professionals in different areas of research, specifically areas of diversity and inclusion. In addition, I will be able to contribute what I have learned from being on Sublett's and Plasman's research team.
Cruz earned her undergraduate degree in psychology from the University of La Verne. She is currently taking classes at SPP to earn her master's of public policy with an emphasis in international relations and dispute resolution. Once she graduates, her goal is to work in the scope of education policy, mental health/health policy, prison reform, and international relations.
Abstract: Here and There: An Examination of Community College CTE and Student Mobility Across Rural Locales
While there is a clear link between postsecondary education and economic mobility, there is growing economic stratification between urban and rural regions. High-quality community college career and technical education (CTE) programs may offer rural students an affordable and efficient way toward remunerative and stable employment opportunities. We used the latest iteration of the National Center for Education Statistics Beginning Postsecondary Students Longitudinal Study of 2012-17 (BPS 12:17) to explore whether community college students who
reside in rural areas were as likely as comparable urban students to pursue CTE fields, which CTE clusters rural residents were more or less likely to pursue, and whether student mobility across or within urban and rural areas was associated with study in particular CTE clusters.
Here and There: An Examination of Community College CTE and Student Mobility Across Rural Locales is currently under review at the Research in Higher Education journal.
View the APPAM virtual sessions.