SPP Davenport Discussions Kick-Off with Expert on Combating Child Sex Trafficking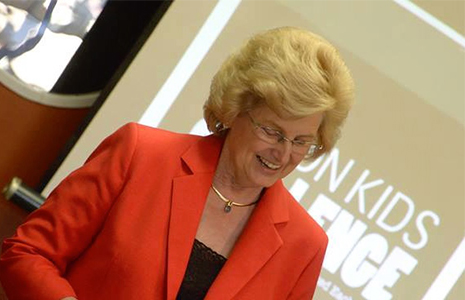 The Davenport Institute for Public Engagement and Civic Leadership at the School of Public Policy will kick-off their lunchtime series of Davenport Discussions on Wednesday, August 30, 2017, at noon in SPP Rm 179. This first session will feature Opal Singleton, founder and CEO of Million Kids, a 501(c)3 organization dedicated to keeping kids safe from predators. Million Kids serves as the training and outreach coordinator for the Riverside County Anti Human Trafficking Task Force and works with the Riverside County Sheriff's Department through a Department of Justice Grant.
Singleton will explore the challenges facing law enforcement and judicial organizations dealing with a global epidemic of crimes against children in a technologically advanced society.
Singleton has trained over 100,000 government and individual leaders about labor trafficking, child sex trafficking, sextortion, child pornography, and social media exploitation. She has authored a book Seduced: The Grooming of America's Teenagers and often appears on television and radio talk shows across the US. She is an instructor at the USC Sol Price Institute for Safe Communities and the USC School of Social Work for the LEAD program for Los Angeles Police Department. She is also an Instructor at the Los Angeles Fire Training Academy.

Each semester at the Pepperdine School of Public Policy, the Davenport Institute hosts a series of lunchtime Davenport Discussions with practitioners, journalists, innovators, and researchers who speak to students on a wide range of issues from state and local finance to the use of technology in government to the outlook for cities in a state budget crisis and much more. These interactive sessions give students an opportunity not only to hear from experts in the field but to ask questions and make personal connections as well. For more information contact Sarah Axen.
Lunch will be served.
All Davenport Discussion sessions are eligible for Professional Development credit for School of Public Policy students.