SPP Co Hosts Webinar on Leveraging Technology to Improve Crisis Response and Preparedness Decision-Making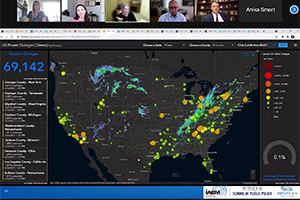 The Pepperdine School of Public Policy (SPP), in partnership with Bent Ear Solutions, hosted an informational and interactive webinar for emergency managers and public safety professionals on May 26, 2021. Made possible through a grant from the Public Interest Technology University Network, Leveraging Technology to Improve Crisis Response and Preparedness Decision-Making brought together more than fifty executives, public safety professionals, crisis managers, operations teams, and GIS professionals from around the nation.
As communities reopen, it is imperative that crisis managers lean forward and prepare for the worst—hurricanes, wildfires, earthquakes, violent actors, cyber attacks, and more. During the event, attendees learned how their existing technology platforms can be employed on blue sky days, grey sky days, and throughout post-disaster response and recovery. From monitoring social media trends to predictive weather modeling to real-time gunshot tracking, technology improves situational awareness, real-time decision making, and information sharing—internally, between agencies, and with the public.
This event was the first of four hosted in partnership with Bent Ear Solutions. Founded as a result of firsthand experience with organizations that were frustrated with the inability to access critical information needed to support operations, Bent Ear Solutions, a veteran-owned small business, has established itself as a national leader in technology optimization, strategy development and implementation, operations center readiness, and continuity of operations planning across sectors. Through this partnership, SPP further solidifies its commitment to foster leaders of smart communities.
Join us on August 5, 2021, at 9:30 AM PST for the next session, powered by the International Association of Emergency Managers.