School of Public Policy Students Descend on Sacramento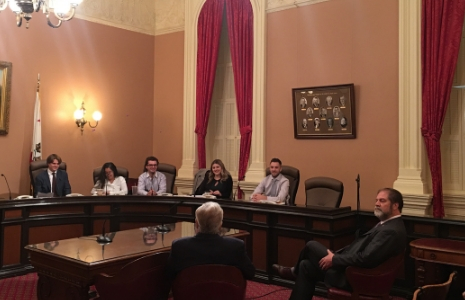 On November 6, Pepperdine School of Public Policymaster of public policy (MPP) students enrolled in MPP 687: Boom and Bust—Solutions to Systemic Causes of California Policy Failures descended on the California State Capitol for an immersive day of learning with state leaders.
MPP 687: Boom and Bust—Solutions to Systemic Causes of California Policy Failures is an innovative "pracademic" state and local specialization elective course designed and taught by assistant dean and adjunct faculty, Carson Bruno (MPP '12). Using budget and fiscal policy and California political history, students explore systemic policy failures and perfect their ability to conduct thorough public policy analysis. To bring the coursework to life, students are matched with a California State Legislative office to work alongside senior legislative staff on a research project. This term, Senators Robert Hertzberg (SD 18), Henry Stern (SD 27), and John Moorlach (SD 37), the California Senate Republican Caucus fiscal consultants, and Assemblymember Shirely Weber (AD 79) have signed on as MPP 687 legislative partners.
Students first had a chance to sit on the California State Senate floor to meet Bernadette McNulty, chief assistant secretary of the California State Senate and Mark McKenzie, chief consultant for the State Senate Appropriations Committee. Both McNulty and McKenzie walked the students through how a bill goes from idea to law, weaving through the labyrinth that is the legislative process.
The class then moved to one of the legislative committee meeting rooms in the historical California State Capitol for a series of panel discussions. Students met with California Department of Finance director, Keely Bosler, the California legislative analyst, Gabriel Petek, and chief budget advisor to California assembly speaker Anthony Rendon, Jason Sisney, for an in-depth conversation on the behind-the-scenes of the California state budget process. They had a chance to hear from Steve and Susie Swatt, long-time Capitol insiders and authors of Game Changers: Twelve Elections that Transformed California (a required text for the MPP 687 course), about the historical evolution of state politics.
State Senators Jim Nielsen (SD 4) and Moorlach (SD 37) joined the students answering questions about life as a legislator, the virtues of public service, and the realities of polarization and partisanship in Sacramento (spoiler: legislators from different sides actually do get along with each other despite their policy differences.) The students concluded their day meeting with their assigned legislative research project partner, hearing about the Capitol Senate Fellows program from Jamie Taylor, the program's director, and a State Capitol tour.
This packed day allowed students to further develop their coursework and see how productive and impactful a career in state policy can be. A big thank you to School of Public Policy alumni, Anthony Archie (MPP '04) and Lance Christensen (MPP '04) who helped make the day's agenda possible.
To learn more about our State and Local Policy Specialization, check out Dr. Michael Shires' blog State and Local Policy at Pepperdine: Where Things Happen.