The School of Public Policy Mourns the Loss of Alumna Susannah Hanson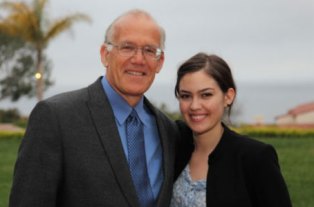 The School of Public Policy, with a heavy heart, has learned of the sudden passing of alumna Susannah Hanson (MPP '12) on November 13, 2014, after a brief illness. She was 27.
Susannah received a BA in European history and a minor in classical studies from the University of California, Santa Cruz, as well as a Masters in Public Policy (MPP) from Pepperdine University, where she specialized in international relations and state and local policy. She completed her internship for her MPP course work at The Allan P. Kirby, Jr. Center for Constitutional Studies & Citizenship, in Washington, D.C., as a research and program development intern. Susannah was employed as a research analyst and biographer in the Office of University Advancement at the University of Southern California (USC), where she helped developed strategies to support fundraising for USC's graduate operations, especially the School of Medicine.
Susannah and the Hanson family are an important part of the School of Public Policy family. Her father, Victor Davis Hanson, has served as the School's William E. Simon Distinguished Visiting Professor in the Spring of 2009, 2011, and 2014.
"Our sincerest heartfelt condolences go out to the Hanson family. Susannah's warm heart and bright intellect forever touched the lives of all her classmates and faculty," noted James R. Wilburn, dean of the Pepperdine School of Public Policy. "We will deeply miss her and always remember her kindness, commitment to public service, and deep love for her family and their homestead in Selma, California."
Susannah is survived by her mother Cara Webb Hanson of Clovis and Santa Cruz, her father Victor Davis Hanson of Selma, her older sister Pauline Davis Hanson Steinback, brother-in-law Shane Steinback, their daughters Maeve and Lila Steinback of Santa Cruz, and her brother William Frank Hanson of Clovis.
Remembrances may be sent to The Leukemia and Lymphoma Society (340 W Fallbrook Ave Suite 101, Fresno, CA 93711).
View Susannah's obituary here.