School of Public Policy to Host 2021 Constitution Day Lecture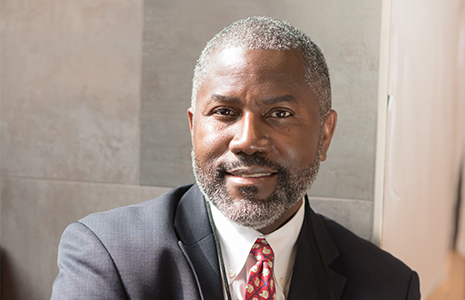 Join the School of Public Policy (SPP) on Monday, September 13, for the annual Constitution Day lecture, "How the Constitution Connects Us All" at noon in Palm Plaza on the Drescher Graduate Campus.
This year, Ian Rowe, a leading education policy scholar and practitioner, school board member, and advocate for inclusive civics education; will deliver the Constitution Day Lecture. "As an education practitioner and policy analyst, Ian Rowe brings a unique perspective to this year's Lecture," noted SPP dean Pete Peterson. "In an era when America's founding has been under withering attack, Rowe's argument that the Constitution should be viewed as a unifying document for all Americans is both timely and provocative," he added.
Seen by some as a purely legal or organizational document, the United States Constitution is the result of years of contentious debate and deliberation and replete with foundational arguments about the roles of government and citizens. In supporting the new Constitution, Alexander Hamilton wrote in Federalist No. 1, "it seems to be reserved to the people of this country, by their conduct and example, to decide the important question, whether societies of men are really capable or not of establishing good government from reflection and choice, or whether they are forever destined to depend for their political constitutions on accident and force."
For an era marked by such polarization and questioning of America's founding, can the Constitution be seen as that common touchstone that connects us all? Understanding that the document incorporates rights and responsibilities (to ourselves and one another) could provide that path forward.
Ian Rowe is a senior fellow at the American Enterprise Institute, where he focuses on education and upward mobility, family formation, and adoption. Rowe is also the cofounder of Vertex Partnership Academies, a new network of character-based International Baccalaureate high schools opening in the Bronx in 2022; the chairman of the board of Spence-Chapin, a nonprofit adoption services organization; and the cofounder of the National Summer School Initiative. He concurrently serves as a senior visiting fellow at the Woodson Center and a writer for the 1776Unites movement.
Until July 1, 2020, Rowe was the chief executive officer of Public Prep, a nonprofit network of public charter schools based in the South Bronx and Lower East Side of Manhattan. Before joining Public Prep, he was deputy director of postsecondary success at the Bill & Melinda Gates Foundation, senior vice president of strategic partnerships and public affairs at MTV, director of strategy and performance measurement at the USA Freedom Corps office in the White House, and cofounder and president of Third Millennium Media. Rowe also joined Teach for America in its early days.
Rowe has been widely published in the popular press, including in the New York Post, the Wall Street Journal, and the Washington Examiner. He is often interviewed on talk radio programs. He is also the author of a forthcoming book tentatively titled Agency (Templeton Press), which seeks to inspire young people of all races to build strong families and become masters of their own destiny.
Rowe has an MBA from Harvard Business School, where he was the first black editor-in-chief of TheHarbus, the Harvard Business School newspaper; a BS in computer science engineering from Cornell University; and a diploma in electrical engineering from Brooklyn Technical High School (Brooklyn Tech), one of New York City's elite public schools, which specializes in science, technology, and mathematics.
Register for the 2021 Constitution Day Lecture.