Pepperdine School of Public Policy Receives $10 Million Endowment to Launch New Edwin Meese III Institute for Liberty and the American Project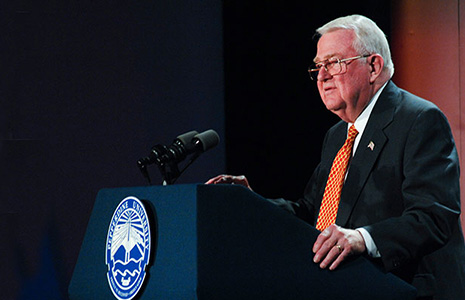 The Pepperdine School of Public Policy (SPP) has announced the launch of the Edwin Meese III Institute for Liberty and the American Project.
Endowed with a $10 million gift from Pepperdine alumni Chandra ('99, JD '02) and Adam ('99) Melton, the Meese Institute will be led by a leading scholar in American history and politics who will assume the Melton Chair at the helm. A member of the School of Public Policy Board of Advisors, Chandra is dedicated to preparing students for leadership opportunities in government agencies at the local, state, and federal levels. The Melton Chair will teach the school's graduate public policy students, organize events, and engage through the media on current political and policy debates from the school's unique perspective. The University anticipates a highly competitive national search for this position.
This is the second named/endowed institute at SPP, after the Davenport Institute for Public Engagement and Civic Leadership—working with local governments, nonprofit organizations, and residents to both promote and support constructive and broad-based civic involvement in decisions that affect people where they live and work. SPP also partners with the Caruso School of Law's Straus Institute for Dispute Resolution in its "Public Policy and Dispute Resolution" curricular track.
"With its longstanding commitment to grounding public leadership education in civic virtue and America's founding principles, the School of Public Policy is the perfect home for this new institute. We all must act to protect the constitutional rights that have made America what it is today and the Meese legacy acts as a compass, a true north for all of us," states Adam and Chandra Melton. "Ed Meese is a man of faith, grounded in absolute truth that is unwavering, steadfast, and full of glorious hope in alignment with our intentions for this institute. It is our calling to give freely, 'for such a time as this,' and affirm that these principles will endure for generations to come."
Meese is best known as United States attorney general from 1985 to 1988 during president Ronald Reagan's second term. He served the conservative icon from the California governor's mansion in 1966 to the White House in 1981 before he went to the Department of Justice four years later. Pepperdine is privileged to honor an institute with the values and beliefs of Meese. Meese received an honorary doctorate from the School of Public Policy in 2007 and has made numerous trips to campus for lectures and events over the years.
"I'm extremely pleased to have my name adorn this new institute at Pepperdine's School of Public Policy, which is committed to making relevant the nation's founding principles to today's public policy challenges," noted Meese. "We know, as President Reagan once said, that 'freedom is never more than one generation away from extinction', and so I'm excited by the opportunity created by the Meese Institute to engage not only current policy debates, but also to prepare our next generation of public policy leaders."
The first program of its kind at a major graduate policy school, the Edwin Meese III Institute for Liberty and the American Project serves as the new academic home for scholarship, teaching, and events focused on connecting America's founding principles to today's national policy challenges. Organizationally, the new institute stands as the foundation of the school's American Policy and Politics curriculum track, formed to prepare public leaders in domestic policy for careers in Washington, DC, and America's top policy research institutions.
The institute builds upon the work of the school's "American Project," which launched in 2017 to explore the future of a more communitarian approach to national politics and policy. Through events and commissioned essays, and advised by a network of leading academics and policymakers, the project has made a compelling case for a flourishing American political culture based on economic opportunity, religious liberty, self-governance, and devolved governance. These programs will continue in the new Meese Institute.
"The launch of the new Meese Institute marks a major milestone in the policy school's 25th anniversary year and is grounded in both America's founding principles and our own," said Pete Peterson, dean and Braun Family Dean's Chair of the School of Public Policy. "The institute will be a vibrant home for our distinctive approach to American policy education, and furthers our plans to grow our program both here in California and in Washington, DC."
About Edwin Meese III
In 2006 Meese was named to the Iraq Study Group, a special presidential commission dedicated to examining the best resolutions for America's involvement in Iraq.
Meese spent much of his adult life working for Reagan when he was elected California's governor in 1966 and then when he sought and won the presidency in 1980. During the Reagan governorship, Meese served as executive assistant and chief of staff from 1969 through 1974 and as legal affairs secretary from 1967 through 1968. He previously was deputy district attorney in Alameda County, California.
From January 1981 to February 1985, Meese held the position of counselor to the president—the senior job on the White House staff—and functioned as Reagan's chief policy adviser. In 1985, he received Government Executive magazine's annual award for excellence in management.
Meese served as the 75th attorney general of the United States from February 1985 to August 1988. As the nation's chief law enforcement officer, he directed the Justice Department and led international efforts to combat terrorism, drug trafficking and organized crime.
As both attorney general and counselor to Reagan, Meese was a member of the Cabinet and the National Security Council. He served as chairman of the Domestic Policy Council and the National Drug Policy Board. After Reagan won the White House in the 1980 election, Meese headed the transition team. During the campaign, he was the Reagan-Bush Committee's senior official.
Meese had a career outside government and politics. From 1977 to 1981, he was a law professor at the University of San Diego, where he also directed the Center for Criminal Justice Policy and Management. Through several decades, Meese has stayed involved in public policy debates and discussions through his fellowships at the Heritage Foundation in Washington, DC, and the Hoover Institution at Stanford University.