Pepperdine Mourns the Passing of School of Public Policy Professor Ted McAllister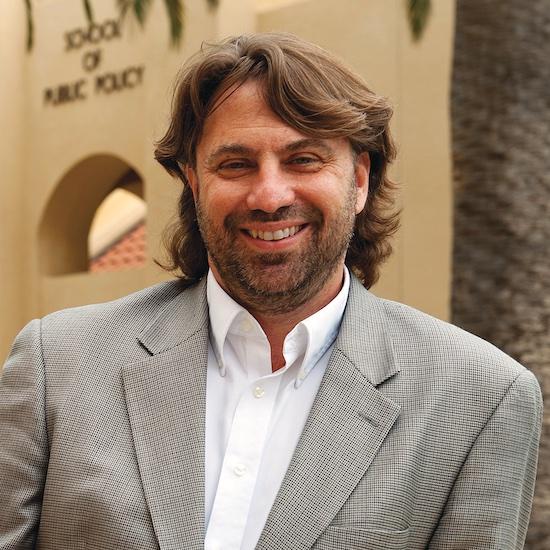 Pepperdine University was saddened to learn of the passing of Ted McAllister, the Edward L. Gaylord Chair and professor of public policy at Pepperdine School of Public Policy (SPP).
An Oklahoma native, McAllister came to SPP in 1998 from Hillsdale College and was named the Edward L. Gaylord Chair as an associate professor of public policy. Tenured in 2003 and promoted to the rank of professor in 2020, he was integral in building the core curriculum, specifically the school's signature foundational courses Ethical Dimensions of Public Policy: Great Books and Great Ideas and The Roots of American Order: What is Public Policy. McAllister was also instrumental in building intellectually challenging courses in modern American and democratic culture in the American Politics and Policy track.
"Ted's influence on SPP and our students is incalculable," says Pete Peterson, dean and Braun Family Dean's Chair. "Beginning with us in our second year, he fundamentally shaped our unique curriculum that balances the study of history and political philosophy along with the more quantitative classes. Ted constantly challenged himself and his students to see public policy through the lenses of the liberal arts—to always consider the human dimension of policy decisions. He was the dearest of friends, a courageous defender of principles, and the epitome of a 'scholar and gentleman.'"
From 2012 to 2013, McAllister served as a Visiting Fellow of the James Madison Program in American Ideals and Institutions at Princeton University; received grants from the Hagopian Family Foundation and the Earhart Foundation for his work on "A Place in the World: Geography, Identity, and Civic Engagement in Modern America," a research conference to explore the restoration of "place" in American life; and was a recipient of the Pepperdine Waves of Innovation grant for the Pepperdine Executive Preceptorial in 2014 with Seaver College professor of English Michael Ditmore.
An innovator in the classroom, McAllister was a two-time recipient of the Howard A. White Award for Teaching Excellence (2004 and 2017). He was known for organizing reading groups for students, colloquiums with Church of Christ sister schools, and designing thought-provoking courses such as Manliness: Courage in a Disordered Age; Toqueville, Local Self-Rule, and Civil Society; Public Opinion and the Problem of Democratic Governance; American Public Philosophy and the Crisis of the Ruling Class; Modernity and Reaction; Experts and the Problem of Public Policy; and Inequality and Alienation.
A respected scholar, McAllister authored the just-released, penetrating book Character in the American Experience: An Unruly People with Bruce Frohnen; Coming Home: Reclaiming America's Conservative Soul also with Frohnen; Why Place Matters: Geography, Identity, and Civic Life in Modern America with Bill McClay; Revolt Against Modernity: Leo Strauss, Eric Voegelin, and the Search for a Post-Liberal Order; and numerous book chapters and reviews.
He received a PhD in American intellectual and cultural history from Vanderbilt University, an MA with a concentration in American intellectual history from Claremont Graduate School, and a BA in history from Oklahoma Christian College.
An active member of the Camarillo Church of Christ, McAllister taught bible studies and held leadership roles.
McAllister is survived by his wife, Dena, his daughter, Elisabeth (Elisa), and his son, Luke.
A memorial service will be held Friday, February 10, 2023, at 11 AM at the Camarillo Church of Christ (515 Temple Avenue, Camarillo, CA), with a lunch reception to follow. The service will be livestreamed and recorded. The livestream may be accessed on the day of the event via Zoom.