MPP/JD Joint Degree Student Jackson Grasz Named 2021 Rumsfeld Fellow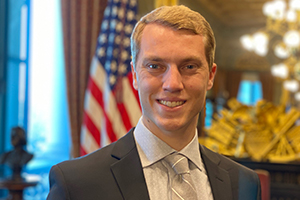 Jackson Grasz, a joint master of public policy (MPP) and Juris Doctor candidate at the Pepperdine School of Public Policy and Pepperdine Caruso School of Law, has been named a 2021-2022 Graduate Fellow at the Rumsfeld Foundation. He recently completed his first year of the MPP program where he is specializing in international relations and national security studies and will begin taking law class this fall. Grasz is a Nebraska native and received his bachelor's degree at the University of Nebraska while studying business management and public policy. After completing his undergraduate degree, Grasz moved to Washington, DC, to work for a boutique law firm specializing in appellate litigation. Currently, he is interning for a nonprofit international security organization where he conducts global risk analysis on behalf of international Christian humanitarian aid agencies.
We asked Grasz questions about the fellowship program and his future goals.
What does this fellowship mean to you?
Receiving the news of my acceptance to the Rumsfeld Foundation Graduate Fellowship Program was a deeply humbling experience. I feel an immense sense of honor and expectation to carry forward the legacy of Secretary Rumsfeld, who recently passed away. His exemplary leadership and service to others and to our nation serve as guiding examples for how to orient my personal life and my future career in public service. I am looking forward to meeting and learning from the other Rumsfeld Fellows throughout this experience.
What do you hope to accomplish as a Rumsfeld Fellow?
I want to stay highly engaged with the Rumsfeld Fellowship's programming to gain as much knowledge as I can from the experiences of the world-class professionals associated with the Rumsfeld Foundation. I will build lasting relationships with past and present fellows throughout the program's network which spans a variety of academic disciplines and careers. I hope this experience will prepare me for a lifetime of public service and help me find my path forward in my vocation.
What are your future goals after receiving your MPP?
I will complete both my MPP and JD in the spring of 2024. Until then, I will continue my studies in international relations and national security and hope to find a legal practice that matches those interests. I would like to clerk for a federal circuit judge and then practice law for several years after graduating. Later, I hope to work in a public service role or related public policy career that makes use of my professional legal skills while advancing policy goals in the realm of international relations and national security.
Read Grasz's latest blog: