MPP Student Brittani Daniels "Finds Inspiration in Illness" | The Press-Enterprise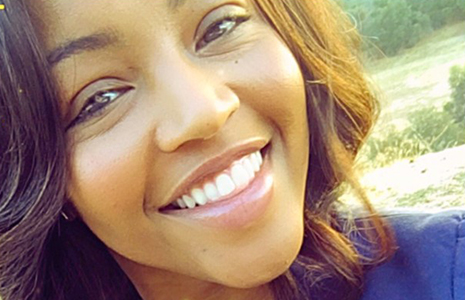 Inland woman finds inspiration in illness
Melanie C. Johnson | April 11, 2017 | Press-Enterprise
A bout with an unexpected life-threatening illness that hospitalized Brittani Daniels for months turned out to be the inspiration behind a care package she created for those battling chronic diseases.
After receiving food items she couldn't eat, make up she wasn't up to applying and tons of flower arrangements from friends and loved ones while hospitalized, Daniels said she felt appreciative of the thought but depressed at the same time.
"People brought so many flowers that at one point in time, my room looked like a mausoleum," said the 27-year-old.
One friend brought her a care package that included Chapstick, hand sanitizer and shampoo, and an excited Daniels got the idea to make a hospital survival guide available for purchase. The Pepperdine University graduate student came up with the Spoonie Essentials Box subscription service, so named for chronic illness fighters, also called spoonies.
Pre-paid or month-to-month themed subscription boxes cost $39.99. The birthday box is $29.99 and a Mini-Spoonie Essentials bag sells for $19.99. Items that have been featured in recent boxes include medical diaries, acupressure wrist band for nausea relief, medical masks and an all-natural ginger traveler's candy to aid with dry mouth and an upset stomach. Daniels plans to use profits raised from the sale of the boxes for a future nonprofit organization she is calling #IAmVisible, with the goal to create more awareness of chronic illnesses, many of them invisible to non-sufferers.
"The only thing that is in there is a little hope," Daniels said of the box. "It's something positive. It lifts my spirits. It gives my life purpose."
A couple of years ago, Daniels, an alumna of Cajon High School in San Bernardino and UC Riverside, suffered what she thought was food poisoning but turned out to be the start of a battle for her life. She was at her parents' Moreno Valley home eating sushi and watching a fight when she began throwing up. That lasted for two weeks before she ended up in the hospital, where she was diagnosed with severe Crohn's disease, a bowel condition marked by abdominal pain and severe diarrhea.
Doctors put her on steroids. They gave her an additional medication that caused the former basketball and track athlete to break out with red blotches all over her body. She was hospitalized again.
"I was in the pits of hell," she said. "I thought I was on fire."
She was diagnosed with Drug Reaction with Eosinophilia and Systemic Symptoms (DRESS), a medicine-induced syndrome that is marked by fever, rash and inflammation of the internal organs.
She spent weeks in a hospital intensive care unit and several months in the hospital and in rehabilitation centers.
A subsequent diagnosis of lupus followed and in October, doctors informed Daniels that she also had colon cancer. She calls her combined illnesses "the golden goose," a nod to the fairytale about the rare goose that laid the golden egg.
"It's something that doesn't seem real," she said.
For Spoonie Essentials, she found an all-volunteer staff of people like her – those battling chronic illnesses.
Marie Aprile, 23, who in January won a contest to serve as the company's brand representative, said she not only connected with the idea of the care packages, but also with the organization's push to give those with chronic illnesses a voice.
Aprile, of Roanoke, Va, is television news director who was born with hereditary multiple exostoses, a rare disorder in which tumors or bone spurs grow on the bones. She has had 42 removed.
"We understand everything about the spoonie life," she said, of the volunteers. "We know how ostracizing it can be. We know how lonely it can be. We are trying to take our struggles and do something good with it. That's what Brittani has done."