Interim Dean Peterson and Bipartisan Leaders Kick Off Conversation: "Money, Schools, Jobs, and You" | California Forward
Bipartisan Leaders Kick off conversation in San Jose on California's big challenges
08/20/2015 | California Forward, by Ed Coghlan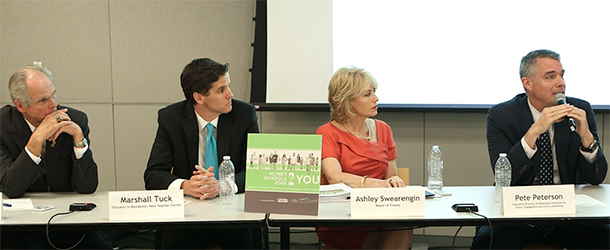 The first of what was billed as a bipartisan conversation titled "Money, Schools, Jobs and You" was held at San Jose State University last night.
The intention of the event--the first of two scheduled--was to provide respected leaders in the civic and innovation arenas a chance to discuss the major challenges that communities face and the collaboration needed to address economic, education and fiscal problems.
The conversations--hosted by California Forward--were led by a bipartisan panel with two Democrats and two Republicans. Former San Jose Mayor Chuck Reed and educator Marshall Tuck were the Democrats joined on stage with Interim Dean of the Pepperdine School of Public Policy Pete Peterson and Fresno Mayor Ashley Swearengin, who are both Republicans.
There also was a response panel including San Jose Mercury News editorial page editor Barbara Marshman, San Jose Mayor Sam Liccardo and Evergreen School District Board member Bonnie Mace.
If there was a common theme it was this: Define the challenge, be transparent in the process and engage more people to find solutions.
For former Mayor Reed, the big challenges are a matter of mathematics: "Local government is getting smaller and more expensive, and it's a trend that will continue."
Reed is well known for his attempts to tackle the thorny pension issues facing local government that he says now represent unfunded liabilities of $200 billion for pensions and another $150 billion for health care.
His prescription was pretty basic—"eliminate the policy by surprise" habits that so many governments practice. One suggestion worth noting was his idea to open up the collective bargaining process with employees to the public, so that the public can be up to date on what is often the top expense a local government has—what it pays its employees.
For educator Tuck, who ran unsuccessfully for Superintendent of Public Instruction last November, the priority is about school performance, saying the percentage of California high school graduates that are college and career ready is unacceptable.
How California can cure that?
Tuck asked the audience—and remember this audience was full of people who already engaged and interested in the public process—who could name their school board members and state legislators.
Only about one in five of the audience indicated they could.
"Get more involved in our public schools. Our kids need it," said Tuck.
Speaking of public engagement, Pete Peterson—who works in that world every day—said he understood why people don't participate in the political process. He called it "rational ignorance."
An analysis of census data showed Californians who didn't vote gave the following reasons:
20 percent said they were too busy
12 percent said their voter wouldn't make a difference
10 percent said they didn't like the candidates
Peterson also reviewed half-a-dozen local elections near San Jose where only a handful of votes would have made a difference in who was elected.
"Civic engagement can happen," Peterson said. "It makes a big difference when it does."
Fresno Mayor Swearengin's focus for the event was on the uneven nature of California's economic recovery. She was speaking in the Silicon Valley, where unemployment is low. In her hometown of Fresno, the opposite is true.
"There's 12 percent unemployment in the Central Valley," she told the audience.
And while unemployment has fallen, state revenue is increasing and the state credit rating is climbing, 50 percent of Californians still said in a recent poll that California is in bad economic times.
She challenged state leaders to use a "triple bottom approach to evaluating job creation policy" that ensures economic, environmental and equity considerations are embedded in the analysis.
"California needs to maintain a focus on water, workforce and transportation infrastructure as keys to improving job creation and the California economy," Swearengin said.
That is, of course, a main focus on the California Economic Summit, which will meet in November in Ontario, California.
So the first bipartisan conversation is in the books. A second is scheduled for Clovis on September 29.
The idea here is just not to talk, but rather to start something--a conversation in communities that can result in real action that can address how we move forward in the 21st century as we address issues that everyone should care about---money, jobs and schools.