Pepperdine School of Public Policy Names Inaugural Tocqueville Scholar Recipients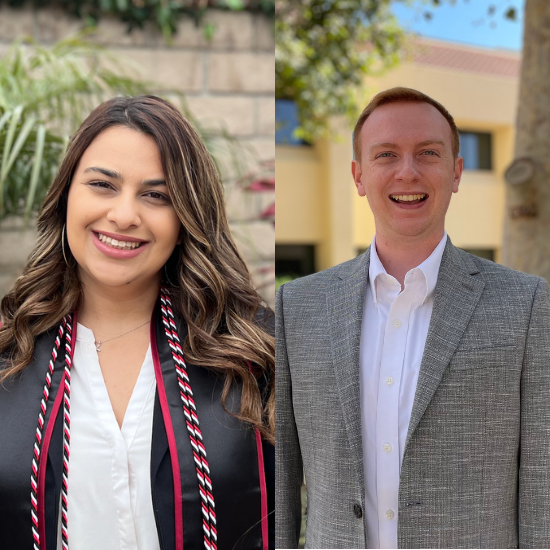 The School of Public Policy is pleased to congratulate second year student, Jasmine Campos, as the Inaugural Class of 2024 Tocqueville Scholar and first year student, Connor Merk, as the Inaugural 2025 Tocqueville Scholar.
This distinguished honor, developed by the Pepperdine School of Public Policy Board of Advisors, is awarded to a single incoming student in each class who displays academic excellence and has received a referral from a Pepperdine Policy Partners Program. As the first year of this endowment, a student from each class was selected. Beginning in Fall 2024, one incoming student will be recognized as the Tocqueville Scholar each year.
To qualify for the competitive Tocqueville Scholars Program, applicants must address, in an essay, classical liberalism, natural law, and/or the founding of the United States of America alongside their own understanding and personal response to these topics.
Jasmine Campos is a Master of Public Policy candidate double-specializing in American Politics and Dispute Resolution. In her essay submission, Campos argued that in efforts to sustain and cultivate American liberty "it is imperative to bolster and support the creation of morally educated intermediary institutions that seek to challenge bureaucratic power and restore sovereignty to the populace."
Campos reflected on her selection by stating, "The designation as a Tocqueville scholar will assist me in more ways than I can count. Since I entered college as a political science major, I have always had a passion for understanding the role of government in protecting liberty and this designation is confirmation that my research and studies have not been in vain. As I enter the political world with this title to support me, my credibility and dedication toward creating a better society will be fully defended."
2025 Tocqueville Scholar, Connor Merk, is a Master of Public Policy candidate double-specializing in American Politics and Applied Economic Policy. In his essay crafted on the subject of the American education system Merk wrote, "A committed citizenry and as Tocqueville called 'true friends of liberty' have the ability to cause change, be advocates for freedom, and prevent government oppression and policy mistakes."
"I am deeply honored to be selected as a Tocqueville scholar, especially because of the award's emphasis on citizen engagement in the public policy process," said Merk. "This generous scholarship will provide incredible support to my educational experience at the School of Public Policy. Also, this recognition will provide a reminder for public servants to incorporate engaged citizens and civic organizations into a limited government approach to policy issues."