Former White House Speechwriter Alec Torres Leads Davenport Discussion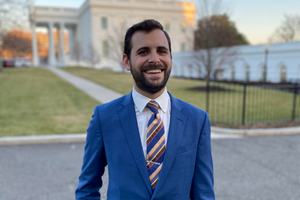 On Wednesday, October 20, the Davenport Institute for Public Engagement and Civic Leadership at the Pepperdine School of Public Policy (SPP) hosted their second Davenport Discussion series event of the semester featuring former Congressional and White House speechwriter Alec Torres. SPP students attended the lunch discussion to hear about the world of federal policy writing.
Not every path to Washington is linear and Torres counts himself as part of that group. He went from hating politics and writing during his undergraduate at Yale University, to working for the National Review in New York as his first job after graduation. He went on to say that the keys to success as a speechwriter are the abilities to communicate, have integrity, and build relationships.
Torres emphasized the importance of having a good work ethic at all times because it could pay off in the end. While working as the speechwriter for House Leader Kevin McCarthy, Torres frequently saw his speeches scrapped, but through perseverance he was able to gain McCarthy's trust, leading to greater autonomy in his role. Torres learned that in speechwriting, one has to take the language of numbers and statistics and translate them into the language of dreams and ideals.
In the transition from Congress to the Oval Office, Torres highlighted how the change in scale meant his relationship-building skills had to navigate more relationships, personalities, and interests. Whereas in the congressional office he was seen and heard, in the White House, the speechwriters preferred to sit in the back, take notes, and write. However, Torres noted it is important to maintain integrity in speechwriting; you need to learn how to navigate personal convictions with the convictions of your employer, even when there is disagreement.