Former Commissioner of U.S. Bureau of Reclamation to Speak on Reforming Water Policy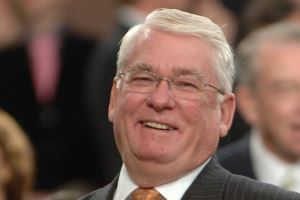 Daniel Beard will be speaking on "Reforming Western Water Policy and Solving America's Water Crisis," on Thursday, March 19, 2015, at 3 p.m., in Drescher Graduate Campus Room LC159.
Beard served as the commissioner of the United States Bureau of Reclamation and as the fourth chief administrative officer of the United States House of Representatives. He began his career with the Library of Congress in 1970, where he worked for the Congressional Research Service, and he served as an assistant director on President Jimmy Carter's Domestic Policy Staff now known as the Domestic Policy Council in the White House. Beard has also served as a deputy assistant secretary in the United States Department of the Interior during the Carter Administration and served as chief of staff for Montana Senator Max Baucus (1982-1984). From 1985-1993, he worked for the United States House Committee on Natural Resources where he was the staff director for the Water and Power Subcommittee before becoming staff director of the full committee in 1991.Beard was appointed to the position of commissioner, United States Bureau of Reclamation by President Bill Clinton in 1993, and served until September 1995. He was elected to the position of chief ddministrative officer of the United States House of Representatives in February 2007 until September 2010. While in that position, Beard assisted in development and implementation of the Green the Capitol Program, an initiative to make the United States Capitol a more environmentally sustainable workplace, the mission to make the millions of square feet of Capitol infrastructure a model of sustainability. Beard earned a BA from Western Washington University and both an MA and PhD from the University of Washington.