Executive Director Maureen Tobin Receives the IAP2 USA Greater Good Award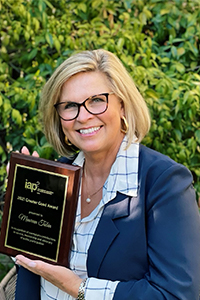 On September 13, 2021, Maureen Tobin, executive director for the Davenport Institute for Public Engagement and Civic Leadership, was recognized for her contributions throughout the many years she has served in the field of public participation with the 2021 Greater Good Award from the International Association for Public Participation (IAP2) USA.
"I am incredibly honored and humbled by this award. There are so many talented, creative, and authentic professionals working in the public participation space. It means so much to be recognized by such incredible colleagues. Public participation at its foundation is about the greater good! That will continue to be my focus in all of my work" shared Tobin.
The Greater Good Award is presented each year by IAP2 USA to recognize excellence achieved by individuals in the field of public participation. Specifically, exemplary contributions in service, mentorship, and advocacy of public participation.
"From her many years in public service to her current role leading our Davenport Institute, Maureen has been known for her commitment to authentic and inclusive public processes in local policy-making," noted Pete Peterson, Braun Family Dean of Pepperdine's School of Public Policy. "We're so glad to have Maureen now offer her expertise in the field of participatory governance to our future policy-makers," he added.
IAP2 USA is a nationwide organization that leads, advances, and advocates for best practices in public participation. It is a home and community for people who believe good decisions can be made together.
IAP2 USA provides members with tools and techniques via conferences, trainings, professional certification, research, mentorship, and access to a community of more than 2,500 members across 48 states to support establishment of good practices so that quality public participation can occur.