Economist Luisa Blanco to Present Research Paper for Mind Your Money Project at APPAM Conference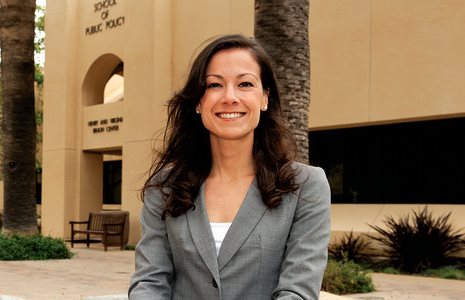 The Pepperdine School of Public Policy is honored to announce that Luisa Blanco, professor of public policy, will be presenting a research paper at the Fall 2021 APPAM Research Conference. The conference this year focuses on The Power of Inclusion: Incorporating Diverse Voices in Public Policy Analysis and Management. APPAM is the Association for Public Policy Analysis & Management organization. This conference was set to take place last year in November, but due to COVID-19 was rescheduled, and now will be held March 27-29, 2022, in Austin, Texas.
Blanco will be presenting her project "Mind Your Money: A Community-Based Randomized Controlled Trial of a Mobile Financial Capability Intervention Among Latinos." This project is funded by the Robert Wood Johnson Foundation, and in collaboration with April Thames (UCLA) and Isaias Hernandez (Eastmont Community Center) in the "Social Equity and Race" track and with the session name: Equitable Data/Advancing Racial Equity and Support for Underserved Communities.
"It is probably the most important conference for those of us who do applied research that has policy applications. I like going to this conference because it has a good mix of academics and practitioners," said Blanco.
Mind your Money is a community-based mobile-delivered intervention to promote good money management skills among Latinx adults in Los Angeles. Mind your Money was designed as a randomized controlled trial with a waitlist control group to ensure all participants benefit from participating in the program. The purpose of this program is to measure how a mobile-delivered intervention can be effective in getting the Latinx community engaged in learning about how to manage their finances, and how this educational program can lead to behavioral change to improve financial wellbeing. Through this program, we are also interested in developing a better understanding of the link between personal finances and stress.

At APPAM, Blanco and the Robert Wood Johnson Foundation fellows will present preliminary results of their findings when they evaluate differences between treatment and control groups of their primary outcomes of interest related to financial behavior and stress at six months among 115 participants.