Dr. Robert Kaufman Reacts to Obama's Lack of ISIS Strategy | NBC News
Should President Obama Have Said There's No Strategy Yet Against ISIS?
Erik Ortiz, NBC News
President Barack Obama's failure to articulate how the U.S. plans to crush the growing threat posed by rampaging Islamic militants has opened himself up to a swarm of backlash from critics.
And it leaves glaring questions about American's foreign policy, observers say, most pressingly: What exactly will our strategy be in Iraq and Syria?
During a news conference Thursday, Obama's blunt admission that "we don't have a strategy yet" landed with a thud — particularly after others in his administration have been ratcheting up calls to eradicate the Islamic State in Iraq and al-Sham, or ISIS, labeling the extremists as a "valueless evil."
Following reports earlier this week that the U.S. sent spy planes over Syria to survey potential airstrike targets, this latest mixed message is a head scratcher, said Robert Kaufman, a professor of public policy at Pepperdine University.
"It's an OMG day because there (Obama) is, undercutting the entire foundation that his people seemed to be on the same page for," said Kaufman, who is writing a book about the "perils" of the Obama presidency. "Now we look confused and in disarray."
Republican lawmakers pounced on the statement as an example of Obama's perceived indecisiveness: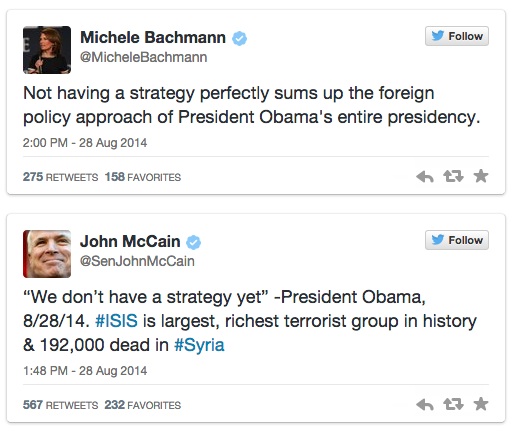 White House press secretary Josh Earnest tried to do damage control, saying in a tweet that there is a broader "comprehensive strategy" on fighting ISIS, and Obama was addressing Syria specifically in his "no strategy" comment.
"The reason for that is simply that the Pentagon is still developing that plan and (Obama) is still reviewing it," Earnest added Friday, after Britain announced it was raising its terrorism threat level to "severe."
No matter what Obama meant Thursday, his admission of no clear-cut strategy only serves to embolden the likes of ISIS, Kaufman said.
But Obama shouldn't be judged too harshly just yet, said Steven David, professor of political science at Johns Hopkins University.
"I think it was an honest statement. Whether it was a wise statement remains to be seen," David said. "It's clear that we don't know what to do with ISIS."
What should be the strategy?
Even as the terror group finds ways to grow its ranks — amid disturbing reports that U.S. citizens are taking up arms with ISIS in Syria — there's still time to bring the network to its knees through several policy options, observers say.
The U.S. must commit to airstrikes on ISIS's Syrian strongholds after similar raids have worked in Iraq, said Daveed Gartenstein-Ross, a senior fellow with the national security think tank Foundation for Defense of Democracies. In addition, he said, the U.S. must continue working with Iraqi forces and other enemies of ISIS.
"Those forces should be the ones at the forefront of the fighting on the ground, not us," Gartenstein-Ross said.
Another new tactic to be considered should be the targeted killings of ISIS's leaders — either through airstrikes, our allies on the ground or by special operations forces, Gartenstein-Ross said.
ISIS's self-described "caliph," or leader, Abu Bakr al-Baghdadi, is an obvious target — remaining a shadowy but central figure in the fight. Iraqi forces should also push to recapture other cities and regions that ISIS seized as it stormed across the northern part of the country in May, Gartenstein-Ross said.
"Mosul is the glue that holds this caliphate together," he added. "The (Iraqi forces) need to put pressure on Mosul and force ISIS to expend a lot of resources."
Gartenstein-Ross said Obama not detailing a strategy now isn't necessarily a bad decision.
"I would certainly hope that we get a strategy together, and that the president doesn't put it all forward right away in a press conference," he said. "Part of winning a war is the element of surprise."
Ultimately, no matter the path, Americans will want to see that Obama can sufficiently stand up to ISIS and keep it from becoming a larger regional and global threat, policy experts say.
"What we've accomplished with American blood and treasure is going up in smoke," David said, "and it's becoming difficult for (Obama) to wrestle with what's going on."