Dean Pete Peterson Authors Foreword to New Book, "Talk Matters!"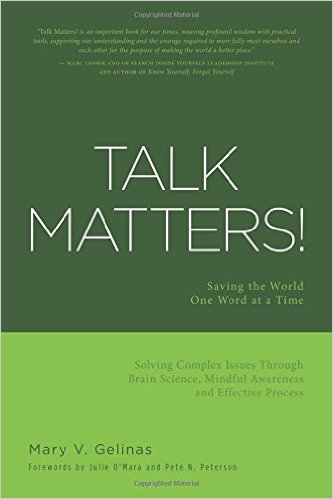 Pete Peterson, dean of the Pepperdine School of Public Policy, authored the Foreword to Mary Gelina's Talk Matters!: Saving the World One Word at a Time(FriesenPress, September 2016). Through discussing the latest in brain science research, Gelinas outlines how better designed public meetings can produce more informed citizens and better public policy, while also looking at how poorly designed public processes actually create more conflict.
After decades of advising groups in the private, public, and nonprofit sectors, process design and facilitation expert Mary V. Gelinas integrates her best knowledge of brain and behavioral sciences, mindful awareness, and effective process. Her eight essential practices offer ways to avoid getting hijacked by our survival instincts, engage with people who differ from us, and open ourselves, our businesses, and our communities to real, lasting change. She explains that good process can help us work better together to do good things for the world.