School of Public Policy Welcomes Dayea Oh as Assistant Professor of Public Policy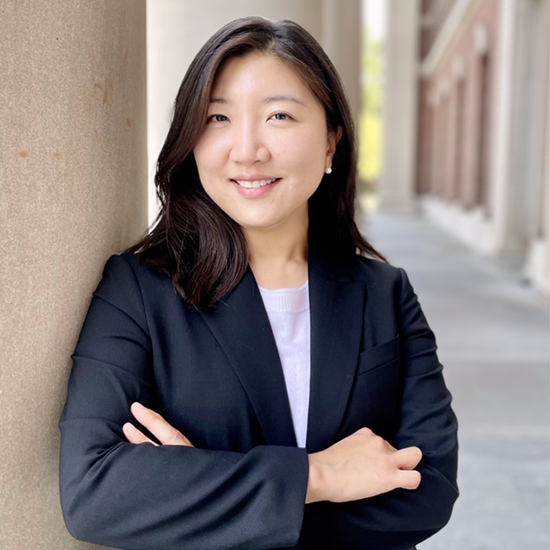 The School of Public Policy (SPP) is pleased to recognize Dayea Oh as assistant professor of public policy. Oh will begin her tenure track with SPP in the fall of 2023. She completed her PhD in public policy at Harvard's Kennedy School and has a master's degree in applied economics and management from Cornell University and a BA in mathematical economic analysis from Rice University. Oh has an extensive background in applied microeconomics and conducts research in the fields of labor economics, development economics, and political economics.
"After a comprehensive nationwide search, we're delighted to welcome Dr. Oh to SPP as our newest tenure-track faculty member," states dean Pete Peterson. "A terrific scholar of politics and policy, throughout the interview process she made clear her commitments to her faith and to preparing future policymakers. She'll be a tremendous addition to our faculty."
Oh commonly studies the causal impacts of desirable social changes and policy designs. Her latest research paper, "When Women Run: Double-Edged Effects of Political Representation," evaluated records from more than 30 years of congressional races that had female candidates and analyzed the impacts gender held in regard to the opposing candidates' campaign funding and overall voter outcome. In collaboration with Professor Reshmaan Hussam, Oh conducted a research participatory program on hand-washing among school children in Bangladesh to evaluate the efficacy of behavior change programs.
"I'm excited and honored to start my career as an assistant professor at the School of Public Policy at Pepperdine," remarks Oh. "From meeting with students, faculties, and the leadership during my visit, I am convinced that Pepperdine University truly is a unique community that is bringing and will bring on waves of change. As part of that community, I look forward to building up future public servants and influencing the broader public policy world at the SPP."