Davenport Institute Partners with ELGL for Webinar Series on Connectivity and COVID-19: A Year Later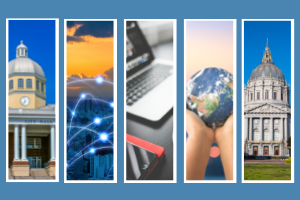 The Davenport Institute for Public Engagement and Civic Leadership, in partnership with Engaging Local Government Leaders (ELGL), just completed a five-part webinar series entitled, "Connectivity and COVID-19: A Year Later." This was a follow-up series to the webinars offered in the Summer of 2020 as local government agencies were in the "thick" of dealing with the restrictions due to COVID-19 and the challenges they created for connecting and engaging with residents and local businesses. In the best of times, inclusive and diverse engagement is challenging, but the requirements for social distancing and not gathering in person made a difficult task almost impossible.

Government agencies quickly pivoted as the challenges of COVID-19 also presented new opportunities and further developed engagement toolboxes for many. In the series, local government leaders shared their experiences and lessons learned through the past year. Government leaders also shared what practices they will continue, or further enhance, as the world moves into the new post-COVID-19 normal and re-opening.

All sessions were recorded and can be found on the Davenport Institute events page.