Davenport Institute Launches New Public Engagement Evaluation Platform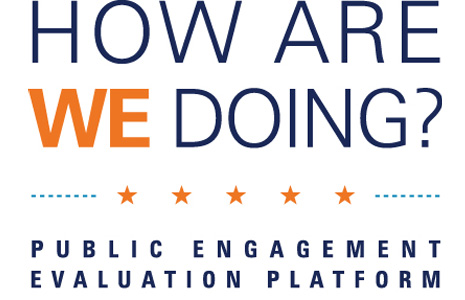 MALIBU, CA— The Davenport Institute for Public Engagement and Civic Leadership at the Pepperdine School of Public Policy is pleased to announce the launch of a new tool to help cities and other local public agencies evaluate their public engagement efforts, the "How are WE Doing? Public Engagement Evaluation Platform".
In a 2012 survey of California public sector officials regarding their views of public engagement, 85 percent of respondents said their "views on public engagement have changed since their careers began," and 77 percent were "interested in hearing more about public engagement practices that have worked in other places."
For almost a decade, The Davenport Institute has been researching, training, and consulting with public officials to improve the ways in which governments involve their residents in making tough policy decisions. This work has taken Institute leadership throughout California and across the country, learning about and teaching the latest techniques in effective participatory governance.
With a growing awareness of what constitutes effective public engagement, we continue to hear from many public leaders seeking a way to take a "30,000 foot view" of their government's practices in this area. The "How are WE Doing? Public Engagement Evaluation Platform" is the product of these conversations, and of the committed participation of an esteemed group of California leaders.
It is designed to offer governments a lens through which they can evaluate their agencies public processes, and to give them the opportunity to apply for recognition of successful engagement. Cities, counties, special districts, agencies, and departments can apply for recognition at one of three levels of engagement:
Silver Engagement – the government is making genuine efforts to improve its engagement with residents and successfully meets at least 12 of the 20 criteria listed.
Gold Engagement – the government has successfully institutionalized resident engagement as part of its operational culture, meeting at least 15 of the 20 criteria listed.
Platinum Engagement – the government is a leader in the engagement field, earning this designation by meeting at least 17 of the criteria listed.
"How are WE Doing?" also offers a way of gathering data on how governments across the state, and eventually around the country, are doing collectively in their attempts to involve residents, data the Institute will make available to all participants in the platform.
The Davenport Institute would like to thank the following Advisory Council members who devoted their time and expertise to developing this platform:
Artie Fields, City Manager, City of Inglewood
Rod Gould, City Manager, City of Santa Monica (retired)
Ken Hampian, City Manager, City of San Luis Obispo (retired)
Dennis Donohue, former Mayor, City of Salinas.
To learn more about "How are WE Doing? Public Engagement Evaluation Platform" visit the homepage here or view the platform here.
About The Davenport Institute for Public Engagement and Civic Leadership at Pepperdine University Since our founding as a multi-partisan, nonprofit organization in 2005, The Davenport Institute (formerly Common Sense California) has worked to engage the citizens of this state in the policy decisions that affect our everyday lives. With a focus on local and regional projects, we support our mission through consulting on public processes, training public sector leaders and grantmaking. It is our firm belief that in today's world of easy access to information and easy connectivity to others, municipal and education leaders are seeking ways to involve the residents of their communities in the important issues they confront. Done legitimately, this new kind of leadership produces better, more creative policy solutions and better, more engaged citizens committed to the hard work of self-governance. For more information visit https://publicpolicy.pepperdine.edu/davenport-institute/
###