Public Policy Student Capstone Research Evaluates Urban Farming Impact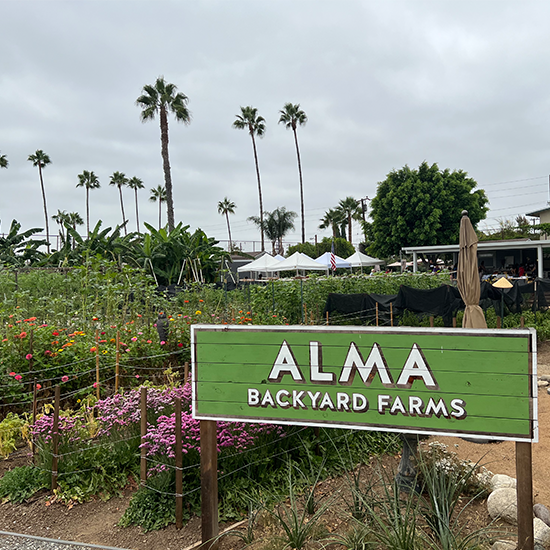 Pepperdine School of Public Policy (SPP) received a grant from the A-Mark Foundation to evaluate a program aiming to foster neighborhood cohesion and restorative justice. The A-Mark Foundation is a nonprofit organization whose mission is to present unbiased research on political and social topics. Led by SPP faculty member Dr. Marlon Graf and A-Mark Foundation's vice president and 2001 Seaver College graduate Tracey DeFrancesco, four students completed a seven-month capstone study on ALMA Backyard Farms (ALMA), a nonprofit farm stand located in Los Angeles, dedicated to reclaiming the lives of formerly incarcerated people, repurposing land into productive urban farms, and reimagining community as a place for people and plants to thrive.
The capstone project at SPP is the cumulation of the students' final months of the Master of Public Policy (MPP) degree program and permits students to develop and present a major public policy design and implementation plan using an actual agency or situation. This integrative experience builds leadership skills and generates deliverables for a student's research portfolio and resume.
During the first semester, the capstone team of Leilani Jimenez, Jaimie Park, Kirill Strakhov, and Alexander DeSantis met with DeFrancesco and Graf to discuss key objectives of the research, devise a methodological approach, develop research and interview protocol, and to prepare an application for human subjects research review from Pepperdine's Institutional Review Board (IRB), which resulted in an exempt declaration, allowing the students to proceed with their intended study. (IRB is designed to provide the protection of rights, welfare, and dignity of human research participants.)
During the second and final semester, the students conducted semi-structured interviews with key program stakeholders and focused on the mission and culture of ALMA. Next, the group synthesized interview findings and analyzed quantitative data that was provided by ALMA, covering–among other things–usage of grocery kits, visitor frequency, ethnicity of visitors, types of vegetables utilized most. The team also evaluated ALMA's job training program, where more than 350 formerly incarcerated individuals in Los Angeles County have received hands-on training.
Graf stated, "I strongly believe that our students learn the most from these types of applied capstone projects. Evaluating a program such as ALMA and interacting with its key stakeholders provided the students with insights into real-world, real-stakes program evaluation. The research was well-received by both ALMA and the A-Mark Foundation and the findings will be used by the program leadership to inform future decision-making."
The research study findings highlighted the importance of urban farming on the health and wellness of the community and the value of training programs for formerly incarcerated individuals. A few data highlights included:
ALMA served 250 households grocery kits from Compton to Long Beach during the pandemic.
62% of the customer base are returning beneficiaries showing strong retention.
72% identified as Latinx, 19% identified as Black, 3% as Asian/Pacific Islander, 1% as Black/Latinx, and 1% as White.
Top-yielding crops are kale, tomato, squash, collards, peppers, and eggplant.
Poorer areas of Los Angeles, like those ALMA serves, have food deserts where a lack of full-service grocery stores could impact obesity rates. ALMA is helping combat that.
33% of visitors to ALMA stay for community and nearby activities.
Visitors to the Farm Stand receive exposure to new and unfamiliar fruits and vegetables.
The study concluded with this analysis:
"The results of this study provide evidence that affirms the effectiveness of restorative justice and environmental stewardship programs in Southern California's criminal justice system. ALMA's model, which is focused on addressing issues related to incarceration, food justice, and recidivism by providing training and employment opportunities to formerly incarcerated individuals as well as repurposing unused land into productive urban farms, could provide a profound framework for evaluating and fostering success in Southern California with similar programs."
Read more about ALMA Backyard Farms capstone report.