Alexine Carr (MPP Candidate '21) Selected as a Presidential Management Fellow Finalist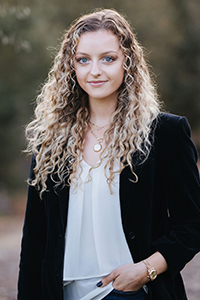 The Pepperdine School of Public Policy is proud to announce that current student, Alexine Carr (MPP candidate '21) was selected as a Presidential Management Fellow for the class of 2021. The Presidential Management Fellows (PMF) Program was created three decades ago by Executive Order designed to attract the next generation of leaders into government service.
The PMF Program received more than 6,800 applications and selected 551 finalists for the class of 2021. Selection of finalists is based on eligibility for the program as well as the candidates' application, assessment scores, and Federal agencies' reported hiring projections. The finalist class of 2021 represents 77 unique disciplines, 153 unique academic institutions worldwide, and 9.6% of the finalists are veterans.
Carr has known she's wanted to work for the US government since she was in high school. "I am grateful for this pathway to a career in federal service. My father, grandfather, and great grandfather were all in the military, and my grandmother spent her entire career working for the Department of Defense," states Carr.