Alexandra Perez ('15, MPP '18) Co-Founded Mentoring Program Hispanics Forward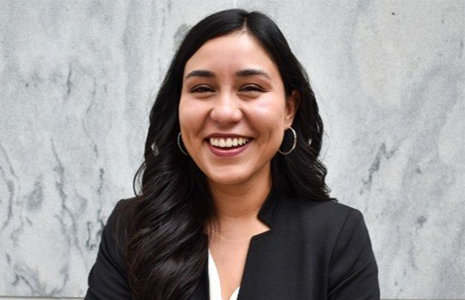 Pepperdine Seaver College and Pepperdine School of Public Policy (SPP) alumna Alexandra Perez ('15, MPP '18) co-founded Hispanics Forward, a groundbreaking mentorship program committed to helping young Hispanic professionals jumpstart their careers in the liberty movement, in January of 2022.
Hispanics Forward is a mentorship program committed to bringing more Hispanic voices to the liberty movement. Mentees are paired with seasoned professionals and typically meet twice a month. Supplementing mentorship sessions, the program hosts monthly cohort sessions that provide guidance on broader professional development topics, and also offer mentees the opportunity to meet and network with their peers in the program. The six-month mentorship aims to provide early-career Hispanics with the tools, knowledge, and network required to succeed and increase representation in liberty-focused careers.
After a few years of combined experience in Washington, DC, Perez and co-founder, Grauben Lara, identified a diversity gap in policy careers—within the liberty space specifically—and have sought to bridge that gap ever since. Perez is passionate about increasing Hispanic representation in this space because the issues Hispanic communities deeply care about—such as education, the economy, immigration, and health care, to name a few—are matters that policymakers have failed minorities on continuously, usually due to top-down strategies that infringe on personal freedoms. By founding Hispanics Forward, Perez and Lara hope to cultivate the next generation of Hispanic leaders who embrace the principles of free markets and individual liberty.
Perez is the health policy project manager at the Cato Institute, a public policy research organization that creates a presence for and promotes Libertarian ideas in policy debates. In her role, Perez works to increase the reach of Cato's health policy research by managing research project timelines and performing various forms of outreach. Recently, Perez and her colleagues announced an initiative to make health savings accounts (HSAs) work for everyone by reforming the tax exclusion for employer-sponsored health benefits and expanding HSA access. Prior to joining Cato Institute, Perez helped manage outreach efforts and operations at the Mercatus Center at George Mason University and is an alumna of the Koch Associate Program.
"I would not be where I'm at today without the several mentors I have had along the way–from my days at Pepperdine Seaver College to today. I am so excited to offer this opportunity to aspiring professionals in public policy and hopefully help create a more diverse talent pool in the liberty movement," said Perez.
As an alumna of SPP, Perez is very familiar with the phrase: "putting the public back into public policy." It is this attitude that has inspired her to work for an organization focused on how to remove barriers (often inflicted by bad policy) that prevent individuals and communities from prospering. This same spirit also drove her to co-found Hispanics Forward. Perez believes that leaders in public policy can be more effective by allowing more freedom for individuals and communities to decide how to best address their unique challenges.