Pepperdine University School of Public Policy Celebrates 25th Anniversary with "Let Freedom Ring" Gala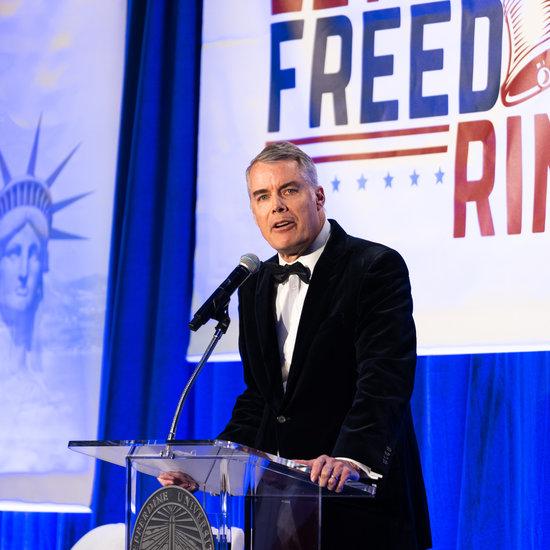 The Pepperdine School of Public Policy (SPP) celebrated its 25th anniversary on Saturday, February 11, 2023, with the "Let Freedom Ring" Gala, featuring a reception and dinner at the Ronald Reagan Presidential Library.
The event looked back at the unique program's history and looked forward to its exciting future with a keynote conversation led by former U.S. Ambassador, National Security Advisor, and Distinguished Senior Fellow at Pepperdine School of Public Policy Robert C. O'Brien. More than 450 registered guests heard from distinguished speakers on various issues including American national security, and current challenges in Europe and Asia.
The "Let Freedom Ring" theme was derived from the Pepperdine University Affirmation Statement, which declares in part "that freedom, whether spiritual, intellectual, or economic, is indivisible."
Opening its doors to the first class of graduate students in 1997, the Pepperdine School of Public Policy remains committed to America's founding principles while promoting viewpoint diversity in preparing tomorrow's policy and political leaders. More than 1,000 SPP alumni are serving throughout the country and worldwide in positions of influence across government, nonprofit, and private sectors—each able to evaluate public policy through the lenses of history, culture, and quantitative analysis.
"The anniversary gala was the culmination of a quarter-century commitment to freedom, but it also set the foundation for a new era at the School of Public Policy," said School of Public Policy dean Pete Peterson. "With newly endowed professorships, and expansion plans in Washington, DC, I couldn't be more excited about SPP's future as a distinctive public leadership program."
This anniversary year has already included several historic announcements including the launch of a new academic center, the expansion of programs in Washington, DC, and the addition of world-renowned faculty.