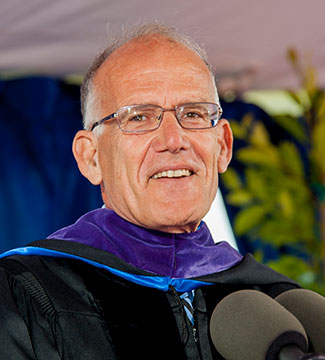 Victor Davis Hanson
Inaugural Terry Giles and Kalli O'Malley Distinguished Visiting Professor
School of Public Policy
Biography
Victor Davis Hanson was named our inaugural Giles-O'Malley Distinguished Visiting Professor in December 2022, and currently teaches at the School of Public Policy.
Hanson served as the William E. Simon Distinguished Visiting Professor for the School of Public Policy in 2009, 2011, and 2014. He is currently the Martin and Illie Anderson Senior Fellow in Residence in Classics and Military History at the Hoover Institution, Stanford University; Professor Emeritus of Classics Emeritus at California State University, Fresno; and the Wayne and Marcia Buske Distinguished Fellow in History at Hillsdale College. He is also a nationally syndicated columnist for Tribune Media Services.
Among numerous awards, honors, and fellowships, Hanson was awarded the National Humanities Medal in 2007 and the Bradley Prize in 2008.
Hanson is the author of hundreds of articles, book reviews, scholarly papers, and newspaper editorials on matters ranging from ancient Greek, agrarian, and military history to foreign affairs, domestic politics, and contemporary culture. He has written or edited 17 books and has written for the New York Times, Wall Street Journal, The Los Angeles Times, International Herald Tribune, and New York Post, among others.
Hanson received a BA from the University of California, Santa Cruz, in 1975, attended the American School of Classical Studies and received a PhD in classics from Stanford University in 1980.
Watch "Office Hours with Victor Davis Hanson,"a four-part seminar series of special interviews that explore the class "Roots of American Leadership in Peace and War" currently being taught by Dr. Hanson to Pepperdine School of Public Policy graduate students.
Education
Ph.D., Classics, Stanford University, 1980
B.A., University of California, Santa Cruz, 1975
Topics
Contemporary History
International Conflict
Military History and Strategy