James Q. Wilson Fellow
James Q. Wilson, who served for 13 years as the Ronald Reagan Professor of Public Policy at Pepperdine University, was hailed by the New York Times as "unquestionably the preeminent political scientist of the last 50 years." In recognition of Wilson's critical role in founding the School of Public Policy and his unique influence on the design of its academic program, the James Q. Wilson Fellow, was created in 2013. Dr. Angela Hawken was named the first James Q. Wilson Fellow.
Angela Hawken
James Q. Wilson Fellow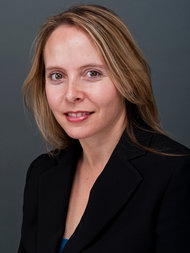 Angela Hawken is professor of public policy, Marron Institute of Urban Management, New York University. She is currently leading teams across six states in replicating Hawaii's Opportunity Probation with Enforcement (HOPE) program, involving judges, probation and parole officers, law enforcement, and service providers to test the broader applicability of a swift-and-certain-sanctions model to manage high-risk offenders.
Hawken's research on crime and drugs has led to her appearance before both state and federal lawmakers, who have used her findings to design critical legislation. She conducted landmark surveys in Syria in 2010 and 2011, revealing the growing citizen distrust of the government prior to the current civil war. Hawken also consults regularly for the U.N. and the State Department. Her work with the U.N. includes developing measurement instruments to study corruption and gender issues in the Asia-Pacific region and is featured regularly in the U.N. Human Development Reports. She has visited Afghanistan twice, and is coauthor of the Afghanistan corruption-monitoring system used by the U.N. and the State Department.
A native of South Africa, Hawken earned her PhD in policy analysis at the RAND Graduate School, where James Q. Wilson sat on the board and became familiar with, and highly complimentary of, her work. At Pepperdine she teaches graduate classes in research methods, statistics, applied methods for policy analysis, crime, and social policy.