Meet the Faculty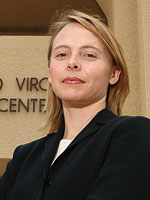 Angela Hawken, Ph.D.
James Q. Wilson Felllow
Office: School of Public Policy (SPP)
Phone: (310) 506-7608
Fax: (310) 506-7494

Ph.D., Pardee RAND Graduate School
M.Phil., RAND Graduate School
M.A., B.Comm., University of the Witwatersrand, South Africa
Angela Hawken is the James Q. Wilson Fellow at the School of Public Policy at Pepperdine University and she directs the Swift, Certain, and Fair Resource Center for the U.S. Department of Justice's (DOJ) Bureau of Justice Assistance. Hawken's research focuses on drugs, crime, and corruption. She is the principal investigator of several studies that test swift, certain, and fair (SCF) strategies to reduce recidivism and incarceration. She led the randomized controlled trials of HOPE probation in Hawaii and the SCF pilot in Seattle (called WISP). She led the advisory team that assisted Washington State in its statewide rollout of SCF and leads the advisory team that supports New York State's experimentation with corrections reform, called RESET. Hawken works with 11 states and an American Indian nation on implementation of SCF probation and parole, on behalf of U.S. DOJ.
Hawken is the founder and director of BetaGov, a center for practitioner-led trials that provides tools to conduct experimental tests of operations and policies; the goal is to dramatically increase the pace of learning about which innovations are promising--and which are not--in criminal-justice and other policy areas.
Hawken was a member of the team that advised the Washington State Liquor Control Board on marijuana regulation. She leads a study, in partnership with the Washington Department of Corrections (DOC), on marijuana and other drug use in the population under community supervision. This is a landmark natural experiment: As recreational marijuana is now legal in Washington, WA DOC no longer tests individuals under DOC supervision for marijuana use and sends all of its drug-tested urine samples to Hawken's research group, which tests them for THC. This study will have the most hard data (i.e., not self-reported) ever on not-subject-to-penalty marijuana use, and will shed light on the gateway hypothesis, the drug-crime nexus, and supervision policy in other states with legal marijuana.
Her international work includes research and policy advising in South Africa, Afghanistan, Syria, and Georgia, and for the United Nations. She has coauthored two chapters in the United Nations Human Development report. She is a coauthor of Drugs and Drug Policy: What Everyone Needs to Know and Marijuana Legalization: What Everyone Needs to Know (both Oxford University Press).
Courses:
MPP 603 Applied Research Methods in Public Policy
MPP 627 Seminar in Economic Policies: Criminal Justice
MPP 627 Seminar in Economic Policies: Social Policy
MPP 627 Seminar in Economic Policies: International Aid
MPP 627 Seminar in Economic Policies: Applied Methods
Academic Interests:
AIDS
Childcare
Civil and Criminal Justice
Econometrics
Economics
Education
Healthcare Economics and Policy
Policy Analysis
Research Methods
Statistics