Dean's Message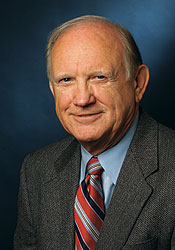 Many public policy programs have been specifically designed for students who are qualified to become skilled public policy analysts. Their work is critical to government, private business, and nonprofit organizations. A few of these students are prepared to combine these analytic tools with the organizational talents that leverage their work through the activities of other people. Still fewer students have the strength of moral purpose and clearly defined values which set them apart as true leaders. These are able to inspire and design organizations which create value for those they serve and make meaning for those they lead.
It is the third group I have described, those who aspire to leadership roles, for whom the School of Public Policy curriculum has been carefully crafted by academic, government, and business leaders with decades of experience and demonstrated leadership skills themselves. And in addition to time in the classroom with an outstanding faculty, students have private time with world leaders as well as national policy makers such as senators, ambassadors, state and municipal legislators, and chief executive officers of major corporations.
At Pepperdine, serious and searching students can find roots that will nourish them through a lifetime of service and can develop wings to reach beyond what they might otherwise have dared to accomplish. These are the special people for whom the public policy program has been designed and who seem to thrive best in its rare atmosphere.
James R. Wilburn
Dean
School of Public Policy