Roadmap for Public Engagement
For over a decade, the Davenport Institute has been researching, training, and consulting with public officials to improve the ways in which governments involve their residents in making tough policy decisions. This work has taken us throughout California and across the country, learning about and teaching the latest techniques in effective participatory governance.We continue to hear from public leaders seeking to capture a "30,000-foot view" of their government's practices in this area. That is why we are launching "How are WE Doing?" to be that lens through which you can evaluate your municipality's public engagement processes.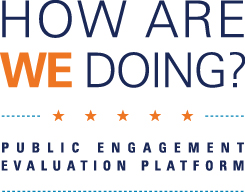 There are two ways to use this tool:
Self-Evaluation: These questions are designed to help you think through your own engagement efforts. We hope they will help you identify areas of strength and weakness, and guide you to appropriate resources for making your relationship with residents even stronger.

Recognition: If your municipality is already doing a great job of legitimate public engagement, we want to know! This platform allows you to submit an application to be recognized as a "publicly engaged city" at one of three levels. Answer the questions, and share some of your story to encourage other local governments to keep engaging!
For more information, we've answered some frequently asked questions below. You can also email the Davenport Institute or give us a call at 310.506.4494 for more information.