Davenport Discussions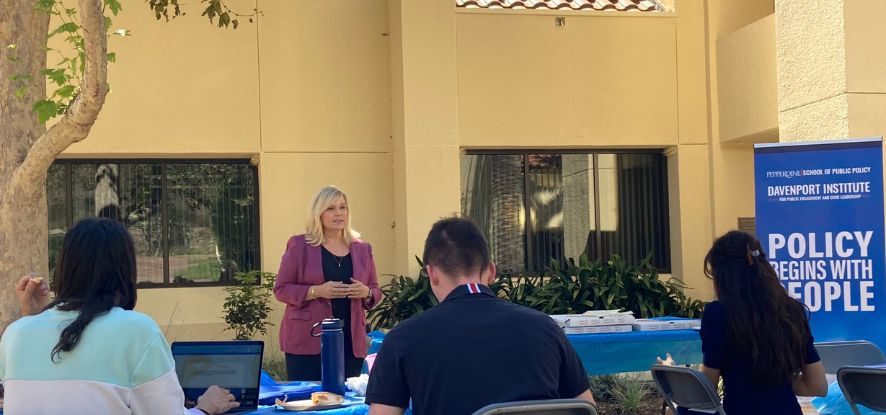 Each semester at the Pepperdine School of Public Policy, the Davenport Institute hosts a series of lunchtime Davenport Discussions with practitioners, journalists, innovators, and researchers who speak to students on a wide range of issues from state and local finance to the use of technology in government to the outlook for cities in a state budget crisis and much more. These interactive sessions give students an opportunity not only to hear from experts in the field but to ask questions and make personal connections as well.
For upcoming Davenport Discussions, please view our event calendar.


Past Speakers
 

2020-2021

Joseph Chidiac
City Planner, City of Henderson, NV
"How City Planners Have Direct Impact on Long-Term Livability Standards"

Neil MacKinnon
Dean and Professor of James L. Winkle College of Pharmacy, University of Cincinnati
"Shaping and Evaluating Public Health Policy"
 

2019-2020

Sandy Smith
Land Use Consultant, Sespe Consulting
"Why is Housing So Hard?"

Kevin Lyons
Co-Founder and Chief Scientist, Governance Science Group
"How Good People Can Give You Bad Data: The Science of Structuring Community Input"
 

2018-2019

Matt Bronson
City Manager of Grover Beach, CA
City Manager in Residence

Glyn Milburn
Partner, Blackman and Associates; Registered Lobbyist
"Highlighting the Work of Public Safety Through Advocacy"

Rick Cole
City Manager, City of Santa Monica
"Leading One of America's Most Successful and Progressive Full-Service Cities: Managing the City of Santa Monica"

Alain Datcher (MPP '15)
Management Consultant, Accenture Federal Services
"How to Navigate Government and Public Service Consulting"

Dominic Zarecki
Senior Data Analyst, Fortune School of Education
"Banning Math Progress: The Unintended Consequences of School Discipline Reform"

Sylvia Ballin
Mayor, City of San Fernando
"Running for Office"
 

2017-2018

Evelyn Aleman (MPP '00)
Founder and President, Media Image Public Relations
"Sixty Years After the Little Rock Nine: Is Education more Equal?"

Luisa Blanco
Associate Professor of Public Policy
"A Community-Based Randomized Controlled Trial on an Educational Intervention to Promote Retirement Savings among Hispanics"

Michelle Brooks
Policy and Advocacy, US at Uniting to Combat Neglected Tropical Diseases Support Centre
"Global Health Policy"

Ladan Cher
Journalist, Lawyer, Investigator
"Dirty Money in Retrospect: Financing of Terrorism and Serious Violent Crime over Time"

Jennifer Childress
Los Angeles Area Director, United Negro College Fund (UNCF)
"In Uncertain Times, A Framework for Thinking About Meaningful, Sustainable Impact: A UNCF Approach to Change"

Charles Hardy
Former Democratic Nominee for Senator of WY
"Charlie v. Goliath" Documentary Screening and conversation on outsider politics with Pete Peterson, Dean

Matt Knabe
Managing Partner, Englander, Knabe & Allen
"Role of the Lobbyist in Public Policy"

Sonia Lowman
Writer/ Director
"Teach Us All" Screening and Director Q&A

John Ned
Visiting Assistant Professor of Finance in Business Administration, Seaver College
"Regulatory Reform: What did Dodd-Frank Accomplish?"

James Prieger and Luisa Blanco
Faculty, Pepperdine School of Public Policy
Export Survival

Lydia Romero
City Manager of Lemon Grove, CA
City Manager in Residence

Lance Simmens
Columnist
"From DC to Malibu: An Activist's Life Inside/ Outside Government"

Opal Singleton
President and CEO of Million Kids, Training and Outreach Coordinator for Riverside County Anti Human Trafficking Task Force
"Combating Child Sex Trafficking"

Stephanie Summers
CEO, Center for Public Justice
"Women in Policy Leadership"

William Swaim
President, California Policy Center
"Think Tanks and Media in State-Level Policy"
 

2016-2017

Alain Datcher
Los Angeles Neighborhood Initiative (LANI)
"Ask an Alum"

Dr. Neil MacKinnon
Dean and Professor,James L Winkle College of Pharmacy, University of Cincinnati, Cincinnati, OH
"International Health Policy: How the US Compares to Other Developed Nations and Future Directions"

Stephen Harding
City Manager, Policy Advisor, Municipal Consultant
"Municipal Management"

Dr. Luisa Blanco Raynal
Associate Professor of Economics, Pepperdine SPP
"Understanding the Racial/Ethnic Gap in Bank Account Ownership Among Older Adults"

Stephanie Summers, Katie Thompson
The Center for Public Justice
"Why Escaping Poverty Requires a Shared Vision of Justice"

Evelyn Aleman (MPP '00)
President, Media Image Public Relations
"The Socioeconomic Impact of K-12 Education Among Hispanic and African American Communities in Los Angeles"

Brian Dille
Assistant Policy Analyst, RAND
"Ask an Alum"

Tamara Manik-Perlman
CEO, NextRequest
"When Transparency Threatens Efficiency"

Frank Benest
Former City Manager, Palo Alto
"City Manager in Residence"

Gerald Duty
Lawyer
"U.S. Immigration Law & Practice"

Nicole Winger
Deputy Controller for Public Affairs, Office of CA State Controller Betty T. Yee

 
 

2015-2016

 

James Prieger
Professor of Public Policy, Pepperdine School of Public Policy
"The Stimulus Bill for Broadband: What Did We Get for Our Money?" 

Lindsay Young
Developer at 18F
"Federal Government 2.0: Bringing Technology to the White House"

David Campt
Author, "Read the Room for Real"
"How Much Civic Engagement do We Really Want?"

Luke Thompson
Special Adviser and Chief Empiricist at Right to Rise USA
"Lawyers, Ads, and Money: How Campaigns Raise and Spend Money in the Pursuit of Victory"

Angela Hawken
Associate Professor Of Public Policy
"A Beta Test for Beta Gov"

Brad "Brick" Connors
Former Commander, Naval Base Ventura County
"Top Gun Leadership: Challenges and Opportunities at Naval Base Ventura County"

Michael Walsh
Journalist, Author, Screenwriter 
"The Devil's Pleasure Palace: The Cult of Critical Theory and the Subversion of the West"
 

2014 - 2015

Nick Bowden
Founder & CEO, MindMixer.com
"Mixing Policy Minds Online: The Story of MindMixer.com"

Ingrid Hardy
Community Services Superintendent, City of Santa Clarita
"Local Government: Where the Action Is"

Daniel G. Newman
Co-founder & President, MapLight
"Mapping the Paths of Political Contributions"

Pete Peterson (MPP '07)
2014 Candidate for California Secretary of State
"Lessons from the Campaign Trail"
 

2013 - 2014

Zachary Bookman
Co-founder & CEO, OpenGov, Inc
"OpenGov: When Technology Forces Transparency"

Haley Firestone Jessup
Director of Major Gifts, DirectRelief
"Solution Revolution: Leading in a Global Nonprofit without Government Support"

Magda Gonzales
City Manager, East Palo Alto
SPP City Manager in Residence, 2014
 

2012 - 2013

Dennis Donohue
Former Mayor, Salinas, CA
"Can California Cities Lead the Way Forward?"

Vance Hickin
California Digital Director, Obama for America
"How they Did it: Obama's 2012 Online Campaign"

Kevin Klowdon
Director of the California Center, Milkin Institute
"California State Finances: Happy Days are Here Again?"

Tim O'Donnell
City Manager, Brea
SPP City Manager in Residence, 2013

Troy Senik (MPP '07)
Editor, ricochet.com
"The Worst Union in America"
 

2011 - 2012

Rick Bishop
Executive Director, Western Riverside Council of Governments
"Thinking Globally, Acting Regionally: The Importance of Regional Governance to California's Future"

Ken Hampian
Former City Manager, San Luis Obispo and former Interim City Manager, City of Bell
"When a City Fails: What I Learned About Leadership in Bell" (SPP City Manager in Residence, 2012)

Steve Malanga
Sr. Editor, City Journal and Sr. Fellow, Manhattan Institute
"Cali to Business: Get out!"

James Prieger
Associate Professor of Public Policy, Pepperdine School of Public Policy
with
Victor Abalos
Director of Communication, California Forward
"California's Civic Engagement: Why We Lag and How We Can Improve"

William Voegeli
Sr. Editor, Claremont Review of Books and author, Never Enough: America's Limitless Welfare State
"Just Say No: The Case for Anti-tax Absolutism"
 

2010 - 2011

Brian Anderson
Editor, City Journal and scholar, Manhattan Institute
"The Power of the Laptop: How Writing Influenced Policy"

Rod Gould
City Manager, City of Santa Monica
SPP City Manager in Residence, 2011

Vance Hicken
Manager, California Forward
"Us Now: A film project about the power of mass collaboration, government and the internet"

Kay Hymowitz
William E. Simon Fellow, Manhattan Institute
"Manning Up: How the Rise of Women has Turned Men into Boys"