City Manager in Residence Program
The Davenport Institute for Public Engagement and Civic Leadership's hosted its first City Manager in Residence Program in two years on February 24-25, 2022. Read more about the event.
The program was introduced in 2011 as a part of a collaborative effort developed by the California International City Manager Association (Cal-ICMA) to offer students in graduate public policy and public administration programs the opportunity to learn first-hand from some of the best city managers in California.
The city managers in residence share their experiences with the school's Master of Public Policy candidates over a course of two days on the Malibu campus. In addition to a formal lecture, they serve as a mentor to students specializing in state and local policy offering career advice and answering questions, addressing classes in the state and local policy track, and meeting with members of the school's ICMA Student Chapter.
---
2023: Drew Powers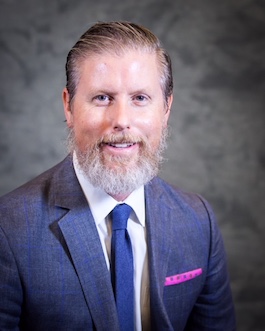 Drew Powers (2023)
Drew Powers is the city manager for the City of Thousand Oaks, California. Prior to his work in Thousand Oaks, Drew managed communications & media relations, web development, and community partnerships for the City of Ventura's Civic Engagement Division. He also has led marketing, corporate relations, and program development activities for the City of Raleigh, North Carolina, Parks & Recreation Department.
Past City Managers in Residence

Troy Brown (2022)
Troy Brown is the city manager of Moorpark, California. Prior to this, he served as assistant city manager of Livermore, California. Brown has been an active member of ICMA since 2004 serving as West Coast Regional Vice President on the ICMA Executive Board and as elected 2020-2021 president of ICMA.

Matt Bronson (2020)
Matt Bronson is the City Manager of Grover Beach, California. Prior to his service in Grover Beach, he worked as the assistant city manager of San Mateo for six years. Through local government, Bronson has demonstrated a remarkable ability to turn visions, goals, policies, and ideas into reality.

Lydia Romero (2019)
Lydia Romero is the City Manager of the City of Lemon Grove, California. Before this appointment, she was deputy city manager for the City of San Marcos and assistant to the city manager for the City of San Rafael. She also served as a policy analyst for the League of California Cities and began her local government career in the City of Duarte.