Professional Certificate in Leading Smart Communities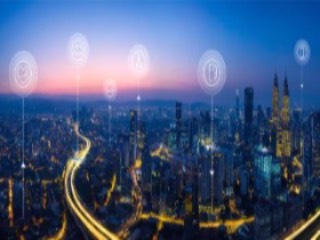 Creating a Better Future through Emerging Technologies
Date Change: Due to the current situation surrounding COVID-19, we have adapted our traditional program to offer a Virtual Professional Certificate in Leading Smart Communities this Fall 2021 held via Zoom. Applications are now CLOSED. To receive updates on future classes please email davenport.institute@pepperdine.edu.
From online public participation platforms to blockchain, technology is fundamentally changing the government-resident relationship. The impact of technology is felt across all departments in municipal governments-from public safety to planning. Given the pace of change, it's time for public policy schools to incorporate graduate-level education in the essential area of government technology (govtech).
In this fast-paced, first-of-its-kind Professional Certificate seminar, you will learn from leaders in government technology how to better use the new technology platforms of today, and gain a valuable understanding of the govtech "game changers" of the future.
Demonstrate your leadership through digital knowledge, skills, and expertise
Differentiate yourself and showcase your advanced skills to your organization; be a champion for digital change
Understand how technologies like blockchain, IoT, and AI will be impacting governments in the future
Outcomes and Program Highlights
Understand the context for urban and community change and how it will help you be better prepared for the opportunities and challenges ahead
Learn about some of the most cutting-edge developments in smart community innovation
Discover why cybersecurity must become a priority for every community and learn about the new information security tools and techniques
Explore new digital approaches to public engagement that reflect the growing expectations of communities
Unleash the power of government data by understanding the capabilities of emerging tools and best practices
Acquire new skills that will help with governance, strategy development, and rapid project deployment
Work together with global team members on developing and delivering a project paper over the course of the certificate program
Session Dates
Tuesday, October 26, 2021
Tuesday, November 2, 2021
Tuesday, November 9, 2021
Tuesday, November 16, 2021
Tuesday, November 23, 2021
Speakers
Kamran Bakhtiari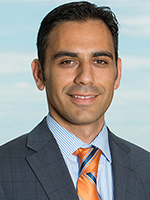 Kamran Bakhtiari is executive vice president marketing at PennyMac Loan Services, LLC. Bakhtiari teaches within the Decision Sciences program at Pepperdine University's Graziadio Business School in their Executive MBA, Fully Employed MBA, Master of Science in Applied Analytics, Master of Science in Human Resources, and Bachelor of Science in Management programs. Mr. Bakhtiari takes great pride in imparting his students with the intellectual tools needed to solve real-world business challenges – helping them see through the lens of data and decision science to achieve practical, impactful results. In 2018, Mr. Bakhtiari received Faculty of the Year award for his work with students at Pepperdine.
As a faculty practitioner, he is loanDepot's VP of Marketing, overseeing brand-focused acquisition marketing efforts for the nation's fifth largest retail mortgage originator. Since launching in 2010, loanDepot has funded more than $125 billion in home loans, personal loans, and home equity loans.
He joined loanDepot in 2016, bringing with him deep experience for implementing direct marketing principals that leverage big data and lead generation in a way that optimizes revenue.
With more than 15 years of executive-level management and consulting expertise, Bakhtiari has been integral to the success of startups and Fortune 500 companies alike. His professional experience includes consultant and leadership roles at Irvine Company, Verengo Solar Plus, REC Solar, Western Digital, Great call, Ten-X – a Google Capital company – and others.
An authority on the Modernization of Analytics, Mr. Bakhtiari resides on the Adobe Digital Marketing Customer Advisory Board – contributing to the company's ongoing effort to create, refine, and validate their digital marketing products. He is also a sought-after lecturer, with speaking engagements that include UCLA, regional Tableau Data Analytics events, as well as the Software & Information Industry Association marketing series. He also has worked with Pepperdine Students on broadening their global and business perspectives through week long global studies in cities including Beijing, Shenzhen, Bangkok, and Taiwan. In 2018, he was recognized by HousingWire as a Rising Star and also received Faculty of the Year at Pepperdine University.
Mr. Bakhtiari is also the developer of a digital marketing platform (patent pending) that approaches typical multi-party media buying in an innovative way, focusing on data over placement.
He earned his Bachelor of Science degree in Economics from San Diego State University, with specialization in Quantitative Analysis, and his MBA from Pepperdine University's Graziadio Business School.
Charla Griffy-Brown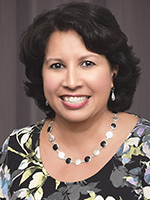 Charla Griffy-Brown is an accomplished professor, board member and consultant who leads transformational change. She works extensively in the area of digital innovation helping organizations leverage new opportunities through analytics, risk evaluation, and emerging technology deployment to achieve their strategic objectives. She also has extensive experience working with executives in the area of information security. Her track record includes working with C-level executives and boards for public and private companies across different verticals including manufacturing and services industries. Having lived and worked extensively in the Asia-Pacific region she brings a global perspective enabling her to engage with executives to identify and solve mission critical problems as well as design strategy. Her published work demonstrates her unique set of skills in critical reasoning and expanding perspectives on technology deployment to achieve strategic objectives. She has been recognized as a thought-leader for her published work and is now distinguished as Editor-in-Chief of the international journal, Technology in Society.
Charla has a portfolio of global business and academic experience that intersects business, executive development, and consulting. She has experience across multiple verticals working with organizations to design their business strategy, taking into account opportunities in digital innovation to reduce costs, increase their ROI and expand their customer base. She worked with SAP and other multinational organizations to deploy SaaS systems in order to achieve sales growth and expand market share. She has also worked with organizations (public and private) to deploy customer-facing systems embracing new business models in this area.
Alexander Kouts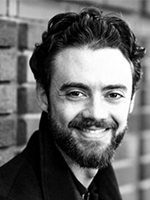 Alexander Kouts has spent his career building and scaling startups as a founder, a head of product/marketing and a UX designer. He's built and launched companies focused on civic engagement, campaign tech, media/news, digital philanthropy, crowdfunding and gaming. Alex has also advised numerous large companies such as Disney, ESPN, ABC, Lloyds Bank of London, as well as mid sized companies, startups and advocacy orgs.
Through Indigov, a new type of govtech company he founded, Alex has designed a digital communication platform that has reduced the average consituent response time for members of US Congress from +45 days to less than 8 hours. Now rapidly expanding to state and local governments, Indigov exists to improve and streamline the constituent experience of democracy while dramatically improving the efficiency of civil servants so they can better accomplish their respective missions. In his spare time Alex teaches current and aspiring elected representatives how to better leverage technology to connect with those they serve as an adjunct professor at Pepperdine University School of Public Policy.
Pete Peterson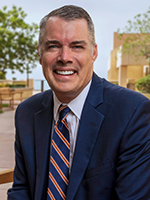 Pete Peterson is the dean of Pepperdine's School of public policy, and a leading national speaker and writer on issues related to civic participation, and the use of technology to make government more responsive and transparent. He was the first executive director of the Davenport Institute for Public Engagement at the School. In 2008, he developed the organization's annual Public Engagement Grant Program, which has provided over $400,000.00 in grants over the last several years to dozens of municipal governments across California. Peterson has also consulted on several of these projects with local governments, and has directly facilitated public meetings. Peterson has co-created and currently co-facilitates the training seminar, "Public Engagement: The Vital Leadership Skill in Difficult Times" a program that has been attended by over 1,000 municipal officials, and he also co-created and co-facilitates the seminar, "Gov 2.0: What Public Officials Need to Know."
Pete has been a public affairs fellow at The Hoover Institution, and he serves on the Leadership Councils of the Public Policy Institute of California and California Forward, and on the steering committee at the Institute for Local Government.
Peterson was the Republican candidate for California Secretary of State in 2014.
Jonathan Reichental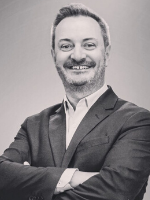 Dr. Jonathan Reichental is the CEO of Human Future, a global business and technology education, advisory, and investment firm. He is the former Chief Information Officer (CIO) for the City of Palo Alto, and a multiple award-winning technology leader whose 30-year career has spanned both the private and public sectors. In 2017, he was named one of the top 100 CIOs in the world and in 2016 he was named a top influential CIO in the United States. Reichental is also recognized as a global thought leader on a number of emerging trends including urban innovation and blockchain technology. In 2013 he was recognized as one of the 25 doers, dreamers, and drivers in government in America. He also won a best CIO in Silicon Valley award and a national IT leadership prize. His innovative work in government has also been recognized by the White House. Reichental is an adjunct professor at several universities including UC Berkeley and the University of San Francisco. He is a popular writer and online host, producing several highly successful online courses with LinkedIn Learning. He co-authored The Apps Challenge Playbook and he is a frequent public speaker on a wide range of technology and business-related topics. He co-hosts the popular podcast, Drinking Wine Talking Tech. In the summer of 2020, he published his latest book about Smart Cities for Wiley & Co.