Affiliations
The Davenport Institute is pleased to partner with many different organizations committed to advancing public engagement and public dialogue throughout the United States. We are proud to be affiliated with the following networks and associations:
Bridge Alliance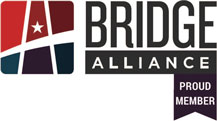 The Bridge Alliance is a "transpartisan" alliance consisting of organizations and individuals from across the political spectrum committed to uniting Americans across political divides to increase civility and collaboration. The mission of the alliance is "to enhance our society's capacity for creating wise solutions that result in: a robust high-functioning political system; and opportunity, freedom and justice for all. You can find out more about the Alliance on their website.
California Consortium on Public Engagement
The California Consortium on Public Engagement is a network of organizations committed to promoting policies that increase and improve Californian's engagement with civic life, government, and society. In December 2015, the network will be presenting a white paper at the first hearing of the California State Assembly Select Committee on Civic Engagement. We hope to be able to continue to support this committee in their work to improve engagement in California. You can access the white paper here.
National Civility Network
The National Civility Network (NCN) is comprised of campus-based institutes and centers committed to a more robust democracy through programmatic initiatives both on campus and in broader society. The NCN collaborates on projects around themes of political dysfunction, civility, and civic engagement. You can read more about their mission and membership on the NCN website.
National Conference on Citizenship
Since 2009, the Davenport Institute has been a state-level Civic Health Partner of the National Conference on Citizenship. Through state-level Civic Health Index reports, the National Conference on Citizenship seeks to promote discussion about how citizens can better engage both politically and socially in their communities, their state, and the nation. You can find out more about the California Civic Health Index here.
University Network for Collaborative Government
The University Network for Collaborative Governance (UNCG) is comprised of university centers whose mission is to enable citizens and their leaders to engage in dialogue, discussion, and decision making around public issues. Both Executive Director Ashley Trim and Senior Fellow Pete Peterson have served on the UNCG Steering Committee. You can find out more about the network here.